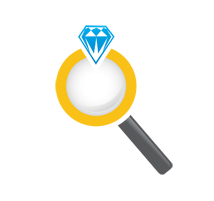 Asking yourself the question, "How to find my lost ring"? Or maybe you are wondering where to rent a metal detector near me? Don't hesitate, give us a call at (608) 492 – 1070 anytime of day.  If we don't pick up, just leave a message with as much detail as you can. Time is critical when searching for a lost ring.
Phone Number: (608) 492-1070
How to Find My Lost Ring?
Don't be embarrassed if you lost your ring, no matter how you lost it.  We have heard every story possible so you are not alone when trying to answer the question, How to find my lost ring?  We have search for lost rings that were left on a lap after applying lotion, only later to fall off when the person stood up.  Hopefully, the lost ring(s) are still in the same area.  We have high end metal detectors that assist with locating your lost ring.
Where to Rent a Metal Detector
Don't waste your time renting a metal detector – they are not something you just pick up and start using.  Yes, you might be able to find your lost ring yourself.  However, I have heard so many storied of people renting a metal detector, only to get frustrated when all they find is trash and junk.  Within minutes, they give up and call the lost ring gone forever.  Why not give us a call and let us search for it – we will devote the time necessary to find your lost ring and the question of How to find my find lost ring will be answered by calling Lost and Found Ring Professional Metal Detectors.
Call Us Now
Why are you still reading this … call us already.  Your lost ring might be found by someone else, and without anything identifiable information inside the wedding or engagement band – they will have no way to reunite the ring with you.  Not sure if you trust us?  Understandable.  Please check out this website for countless testimonials, newspaper articles, TV new stories, radio station interviews and community awards that the Lost and Found Ring team has received.  Hopefully this will help convince you that we are honest and ethical people who just want to help you answer the question, How to find my lost ring?