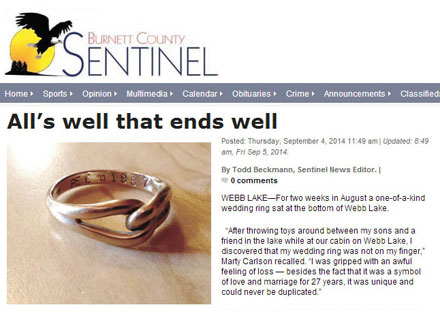 A lost ring we found in 2014 at Webb Lake, WI was recently featured in an article by Todd Beckmann.  The Burnett County Sentinel article details how Marty lost his ring at his cabin on Webb Lake, how he found us and how we his wedding ring of 27 years.  This was a unique hunt in that we found another wedding ring before Marty's – crazy, eh?  We still have the second ring and hope to return it to the person who lost it some day.
Burnett County Sentinel Article Link
Burnett County Sentinel – All's Well That Ends Well
More Lost Ring Stories
Interested in more Lost Ring Stories?  Check out our Lost and Found Ring Story Archive, Local Newspaper Articles featuring the Roekle Ring Finders or other General Interest Lost Ring Stories in the news from across the United States.