Garrett AT Pro VDI 14K Gold Rings
Below are detailed pictures, weights and Garrett AT Pro VDI of various 14K gold rings, including women's engagement rings, woman's wedding bands and men's wedding bands.  Included in each video is what each ring sounds like under an Garrett AT Pro metal detector as well as the Garrett AT Pro VDI 14k gold reading.  As you can tell, this varies depending on the type, size and weight of the gold ring.
Sometimes when on a hunt for a lost ring, you just dig everything that has a signal – just to make sure you don't miss anything.  However, sometimes there is just too much junk / trash in the ground / water to dig everything.  This is why it is helpful to know a target range of what you are looking for.  My hope is that other ring finders can use this Ring Catalog as a resource when looking for lost rings for people.  I've included detailed pictures of each ring along with the weight, so that hopefully you can find an example close to the ring you are looking for.  Hope you find this resource helpful and that other Ring Finders locate lost wedding, engagement or class rings for people as a result.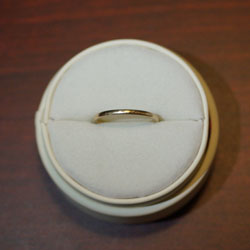 Material: 14k Gold Wedding Band
Weight: 1 gram
AT Pro VDI: 47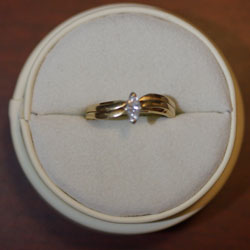 Material: 14k Gold Diamond Solitaire
Weight: 4 grams
AT Pro VDI: 52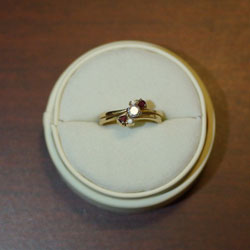 Material: 14k Gold, Diamond and Ruby
Weight: 5 grams
AT Pro VDI: 53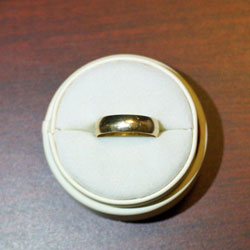 Material: 14k Gold Band
Weight: 6 grams
AT Pro VDI: 60
Ring Catalog
Check out other types of rings in the Lost and Found Ring Catalog.  Here you will find examples of gold, silver, platinum, tungsten, titanium and other materials.