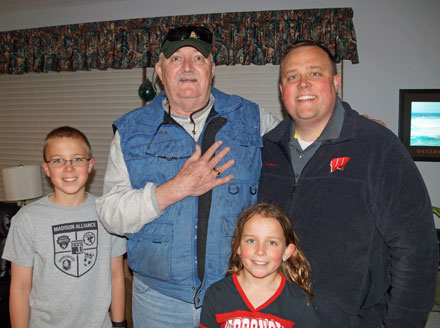 When we receive calls / emails for lost rings, we try to return them as soon as possible.  Al's sent me an email looking for help on Easter Sunday.  I was out of town, up at my sister's house in La Crosse, so I wasn't able to respond to Al as quickly as I would have liked.  Time is critical when looking for a lost ring.  We did exchange some emails back and forth, and I got confirmation that his ring was not recently lost so we had some time.
25 Year Work Anniversary Ring
The next day, I gave Al a call on the phone and I got more details about his lost ring.  Al explained that the ring was a large gold ring, containing a black onyx center stone with diamonds on both the top and bottom.  Al received the ring in recognition for 25 years of service at a local insurance company.  The longest job I've ever held was 7 years, so I give Al a lot of credit for making it to 25 years at the same employer.  Al remembers the day he lost his ring, he was mowing his lawn.  He was mowing a section of grass behind his lot, a common greenway.  While siting atop his riding lawn mower, he approached a set of trees which hadn't been trimmed recently, so the branches hung down low.  Al had to raise up the branches with his hand as he passed under the tree on his mower.  As he was letting go of the branches, one of the small branches hooked around his ring and when he let go of the branch, the ring flung off into the grass.  Al knew immediately what had happened, so he jump off his mower and began his search.  He used a rake to search the entire area, hoping to stir up the ring. Unfortunately, he came up empty handed.
The Man Who Finds Lost Rings
A calendar year passed, and Al continued to wonder if his ring was really still out in the grass, or had someone else picked it up? One day, he was reading the Sunday paper and came across a story by Doug Moe, a local reporter for the Wisconsin State Journal. The story was about our Lost Ring Finding activities (Doug Moe: The man who Finds Lost Rings).  After reading the story, Al wondered if we could find his lost ring?  Al, like most people, considered renting a metal detector.  A metal detector doesn't seem difficult to use at first, but it isn't something you want to learn on your first attempt to find your lost ring.  Al was smart, saved his money and hired us instead.
There are some stories that after you hear them, you just feel confident that you'll be able to find the lost ring.  Al was one of these rings.  He knew where he lost the ring and he knew how he had lost the ring … now we just needed to find the lost ring!  We were excited to look for Al's ring, because we were on a little bit of a dry streak – going 0 for 3 on recent lost ring hunts.  Unfortunately, it was Monday night and the UW Badgers were playing for the National Championship against Duke – first time since 1941.  We have season tickets and love watching Badger Basketball.  Tipoff was a little after 8:00 … it was 5:45. I looked at the kids and said, "Maybe we just go out and take a look at the site and see what we find?" They were totally on board, and we headed out.
Rain, Rain Go Away
The drive to Al's house was only about 15 mins. As luck would have it, it started to rain right when we pulled into his driveway.  Seeing as all of our metal detectors are water proof, we decided to continue with the hunt.  Al took us to the location and explained how he had mowed under the tree and where his ring had be thrown.  We started to search the area and got a number of  hits on our metal detector right way.  However, after digging the signals, they were all trash / junk. I always tell people not to get too excited when we start digging, because 90% of what we dig is trash – you'd be surprised how much junk is underground. After 30 mins, we had not found the ring, so we expanded the search area around the tree.  Could the branch have flung the ring farther than we were thinking?
What about that Tree?
After another 10 mins, my daughter says to me, "That tree over there looks a lot like this tree."  I'm not sure if Al heard her or not, but a min later he said, "Maybe it was closer to that tree." We again systematically searched the area, working from left to right, and then top to bottom.  The very first hit we got was strong and right in the gold range … it was Al's ring resting about an inch below the grass.
Al was relieved to have the ring back on his finger, his wife also was surprised we were able to find it … and even in the rain! We quickly returned home to watch Bucky play a heck of a game, but came up short in the end.  Thank you Al for the generous reward and happy to put that lost ring you earned back on your finder.
Never Give Up Hope
If you are reading this and lost your ring today, last weekend or 10+ years ago, please give us a call at (608) 492-1070. Write down as many facts about how and where you lost your ring.  These are so important and can be the deciding factor in whether your lost ring is found or will remain lost forever.  Al never gave up hope and wondered if we could help find his lost ring, and we did!  Please "Like" our Facebook page and you will get every Lost Ring Story delivered to you.  Also, please share this story on your Facebook page, so together we can reach more people to help find their lost rings.  Remember, every ring has a story, what's yours?
More Lost Ring Stories
Interested in more Lost Ring Stories?  Check out our Lost and Found Ring Story Archive, Local Newspaper Articles featuring the Roekle Ring Finders or other General Interest Lost Ring Stories in the news from across the United States.