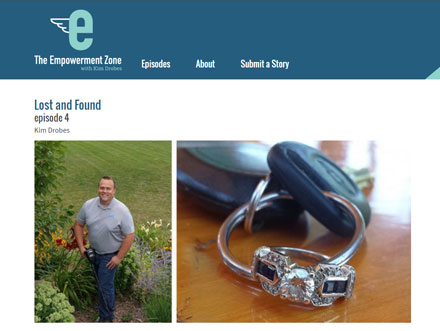 What a year for promotion and publicity for the Lost and Found Ring metal detecting business.  2016 has been capped off with an appearance on the Clark Howard nationally syndicated radio talk show, The Clark Howard Empowerment Zone.  Wow.  I've been a life long listener to Clark Howard's radio show, so when I was asked to be a guest on a new segment called Clark Howard Empowerment Zone, I was humbled.  I remember as a little kid my dad listening to AM radio – Bruce Williams was the show I distinctly remember falling asleep to (was so loud from my dad's office or my parents bedroom I could hear it from my room).  Guess it stuck, cause I listened to AM radio all through college and continue to this day.  Clark is a great guy – he genuinely cares about the people he is helping, answering most calls with "How can I serve you?".
Clark Howard Empowerment Zone
Kim Drobes is the Executive Producer for the Clark Howard Radio Show, and also produces and hosts The Empowerment Zone podcast.  It was a pleasure speaking with her over the phone.  The biggest thrill was two of my past clients also agreed to tell their story on air.  I love hearing the lost ring stories from the people directly – as they tell the story with so much emotion and explain first hand why the ring was so much more than just a piece of jewelry.  Thank you to Laura and Jon for taking the time to talk with Kim and tell your story.
Have Metal Detector Will Travel
I'm now waiting for my phone to ring off the hook with calls from Hawaii or the Bahamas of a long lost ring.  I'd be happy to come out and take a look if you can cover my airfare!  Check out the podcast below, it's not that long – Kim did a great job turning a "nerdy" metal detecting hobby business into something that actually sounds interesting!
https://deals.clark.com/lost-found-episode-4/