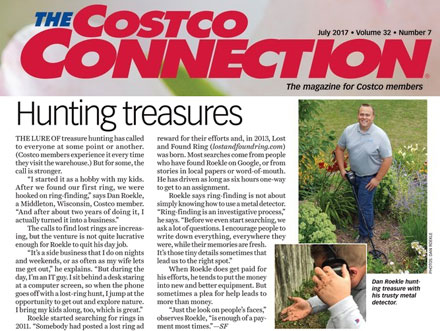 Wow. That's about all I can say, is wow.  I still can't believe there's an article on the ring finders from www.LostandFoundRing.com. Check out the July 2017 edition of the Costco Connection magazine.  Steve Fisher was a pleasure to talk with and he produced a great article. Humbled to be the recipient of some incredible press lately. I was a guest on the Clark Howard Empowerment Zone podcast. Recognized as a local Ring Finder by being named Professional of the Week for InBusiness magazine. I also served as a featured expert on the award winning Love Madison Weddings blog.
Why all the press?  A ring is such an important symbol, typically given by a loved one. They also represent significant accomplishments in someone's life. When a ring is lost, you can imagine the feelings of despair people feel.  When the ring is found, the feelings are incredible. This is why the ring finders stories are so fun to tell. I often think that the metal detecting hobby is one of the best. I get to play around with a metal detector, find gold and return it to an appreciative customer.
The Ring Finders
Recently, a coworker of mine helped return a class ring to an alumni of The University of Wisconsin.  The ring wasn't found with a metal detector, rather it was in the lost and found.  Some initials, a graduation year and college were just the right clues to solve the mystery.  After helping reunite the gentleman with his lost class ring, she said, "I now know why you are one of the ring finders."  It's the feeling like you are making a difference in someone else's life.  "It's just a piece of jewelry", some say.  "You can just replace it". Talk to anyone who has contacted me to find a lost ring, and they will tell you a replacement is just not the same.  Those dings, dents and scratches in the gold ring each tell their own story.  Stories that cannot just be replaced, rather they must be found.
Lost Ring?
Remember if you find yourself with a lost ring, don't search where to rent a metal detector.  Instead, call one of the ring finders at www.LostandFoundRing.com. Even if you are not from my area, I will do everything I can to help you. I can help put you in touch with one of the ring finders from your local city.  Even if I can't find one of the ring finders close to you, I can help from a distance. I've helped over a dozen people find their rings over the phone and email.  I have conducted over 100 lost ring searches, I can suggest many tips that you can do yourself. My only request is that you help tell the story of the ring finders from www.LostandFoundRing.com so that we can continue to help others find those lost memories.