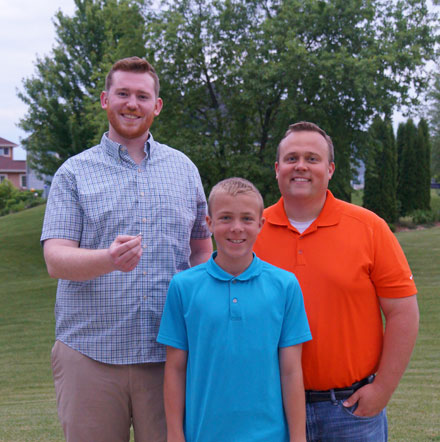 If you've followed my stories over the years, you know I love what I do.  Being able to metal detect and reunite people with a lost wedding or lost engagement ring is absolutely priceless.  I'm also constantly amazed at the stories behind the rings, and the memories and emotions that go along with them.  The highs are certainly high, but the lows are certainly low as well.  Not every hunt we go out on is successful.  Sometimes the lost ring wasn't meant to be found.  Unfortunately, I don't operate www.LostandFoundRing.com as a full time business, so my time available to go out on lost ring hunts is limited.  There is nothing more than I hate then "giving up" on a lost ring.
Lost Grandmothers Ring
I got a late night call from Connor … like around midnight.  I rolled over in bed, saw that it was a Lost and Found Ring call, and actually went back to bed.  I was in no shape to go out on a hunt, as I had just finished up a late night work out and was physically spent.  I do advertise that you can call me anytime of day … but I don't promise I'll answer!   The next morning, I woke up early and listened to Connor's voicemail message – he sounded pretty desperate.  He explained that he had lost a family heirloom, he had lost Grandmothers Ring!  He was desperate to get a metal detector to help find it.  I had plans during the day, but arranged a time at night to take a look.  Hunting for lost ring during the day is easier, but sometimes the only time I have available is at night.  If the ring was recently lost and it was lost on land, a nighttime ring hunt isn't as bad as it might sound.  Sometimes the shine of a flashlight will bounce off of the ring and make it stand out better than during the day.
Late Night Ring Hunt
I'll let Connor tell the story of how we found his lost Grandmothers Ring … below is a testimonial from Connor's point of view:
"The engagement ring that I gave to my fiancé is no ordinary ring. It was purchased in 1943 by my grandfather, who gave it to my grandmother before he went off to fight in World War II. I am the third generation to have given the ring to his future wife. So you can imagine my panic when we realized it was gone from its "safe spot" in the backpack after a hike. We were able to narrow down where it fell, but it was still a large area that needed to be searched. Dan's name came up in a Google search, and I left a frantic voicemail on Friday evening. By 6am the next day, Dan was in touch. He said he wouldn't be free to search until the evening, but I was able to borrow a metal detector to begin my search. 4 hours of meticulous combing the overgrown area and I hadn't found as much as a penny. The panic began to grow and I started to wonder if we had lost it for good. How was I going to tell my parents, my whole family that I had lost Grandmothers ring?!
That evening, Dan arrived with his son and the latest and greatest in metal detectors. Together they systematically swept over the area I had looked in, and then continued outward. Probably doing more harm than good, I was out there too zig-zagging around with my loaner. A little over an hour in, we were about to call it a night. My heart was in my shoes as we gathered around a lamp post that was the only light source in the dark sky. You know that theme park ride that straps you in, brings you up 10 stories, and then abruptly drops you down? Well my heart did the exact opposite of that when Dan casually pointed to where we were searching… with the ring on his finger. Once it registered, I went haywire. Many hugs were handed out, and everyone was feeling the satisfaction of a successful mission. My lost Grandmothers ring was found!
Dan is a professional in every sense of the word. He responded as quickly as possible; he understood my urgency and worked with me any way he could. Throughout the process, I could tell that the reward money was not the motivator – Dan truly wanted to help me find the ring. Most importantly, Dan knows what the heck he is doing. He and his son had the right tools and a process that worked! I can't thank Dan enough for returning this priceless family heirloom safely to us. I would strongly recommend Dan's assistance to anyone who finds themselves in a similar situation.
Thank you Dan!"
Lost Grandmothers Ring – Found!
Like I said above, not all lost ring hunts end up successful – but I was so happy this one did.  Connor was probably one of the most outwardly excited of any of my clients.  I got one of the biggest "Bro Hugs" ever when I handed that lost ring over to him.  To think that this same ring was on the fingers of not one, not two but now three lucky ladies in Connor's family is pretty cool.  Lots of history and memories behind this ring and we were honored to be able to recover it and return it to Connor by the light of the moon.
More Lost Ring Stories
Interested in more Lost Ring Stories?  Check out our Lost and Found Ring Story Archive, Local Newspaper Articles featuring the Roekle Ring Finders or other General Interest Lost Ring Stories in the news from across the United States.