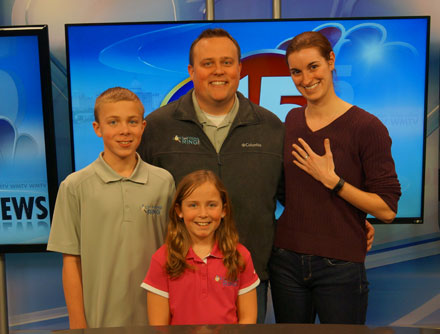 Remember when you were in high school and had to sit down with the guidance counselor and go over career planning?  You had to answer a bunch of questions about things you liked to do and what your dream job would be.  I remember one of mine was always to work on a boat that searched for shipwreck treasure.  Mel Fisher (probably the most famous treasure hunter) was always someone who I loved reading about or watching a documentary on.  I hope to someday visit the Mel Fisher Museum in Florida, where many of his finds are displayed.  I'm not sure what it was, but I have always been fascinated by the fact that there are millions of dollars of gold coins just sitting at the bottom of the ocean waiting to be found by someone.  You always hear stories of people finding gold coins on the beaches of Florida after a strong hurricane stirs them up.  Wouldn't that be something to find, eh?   Modern day treasure hunters use ROVs, or remote operated vehicles.  The most well-known is probably the Odyssey Explorer.
NBC Making a Difference Award
Recently, we were presented the Making a Difference Award by the local NBC news station.  After our TV interview, I was asked by the news anchor, John Stofflet, if we could find rings under concrete sidewalks.  Molly, a news director at the station, had dropped her grandmother's ring on the sidewalk and watched it fall down a crack in the sidewalk.  She attempted to get it out, but her efforts only pushed it out of sight and further under the sidewalk.  After talking with her, I could sense that she was starting to lose hope that she'd ever see her grandmother's lost ring again.
Endoscope Cell Phone Camera
A metal detector would not help find this ring, in fact we knew right where the lost ring was … we just couldn't see it.  So, like any man … I bought a new tool.  I searched Amazon for an endoscope camera which connects up to your cell phone and allows you to not only see the video, but record it.  Honestly, at $20, this is a must for just about everyone to own.  First thing my kids did was stick it in their mouth to take pictures of their uvula (what does that thing do anyways?)!
Sunken Treasure Ring
Now that I had a camera, I could stick it down the crack and see if I could see the "buried treasure ring" I was searching for.  I always try to think positively when searching for a lost ring, but this was new territory for us.  Would we be able to even see the ring?  What if it was too far down for the camera to see?  Would it be too dark? When the camera arrived, we rushed out to the location. After "launching" the camera down the crack, it honestly felt like I was operating the Odyssey ROV and it was 1,000 feet under water in the ocean … that dream job I wrote down in the high school guidance counselor's office was coming true. After about 30 mins of moving the camera back and forth … I saw a circular shape protruding from the dirt under the sidewalk.  Could it be Molly's lost ring?  I took a piece of wire and fashioned a hook on one end.  Using the camera as my guide, I used the wire to clear away the debris surrounding the lost ring. While doing this, I actually flipped the ring up on its side – allowing me to then snag it with the wire hook and bring it back up to the surface.  It was amazing.  Check out the NBC15 video link for the actual footage of me retrieving the lost ring found under the sidewalk.
Story as Told by Molly
I always love hearing the "rest of the story" behind the lost rings as told by the men and women who lose them.  Below is Molly's story:
"My boyfriend Brian and I were waiting for a ballroom dance class to start, and decided to burn some time at a board game store across the street. It was a Friday night in late January, and as I was taking my glove off to open the door, my grandmother's ring slipped off my middle left finger and fell to the ground. It made a "tink" sound as it rolled across the concrete…right into an approx. quarter inch crack in-between the sidewalk and a column.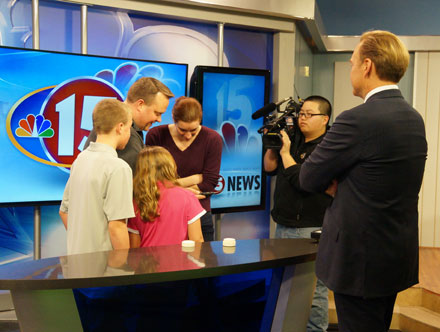 Brian and I were able to see the ring at first, with a flashlight — it was about 8 inches down. We went into the game store and asked to use a wire; all the store employees were very sympathetic and helpful. Brian tried to fish the ring out with the wire — he was able to raise it up but couldn't bring it up over the corner — and it fell back down the crack, out of sight. We tried to get the ring for another 15 minutes, using tape, wires, etc — but no luck. When we got in the car I cried for awhile, gathered my composure, then went on with the dance lesson.
We were determined not to give up, so after the lesson, Brian and I went to Menard's, where we bought a "tool retriever." It was a long metal rod with a little hook on the end. We went back to the store and tried using that, but it didn't work, because we couldn't see what we were doing. We gave up for the night and decided the next step was to talk to the property owner about maybe raising the concrete.
Several weeks went by, and lots of people heard the story of how I lost my ring. Many people offered to help in whatever way they could. I told the story to John Stofflet, my 5pm anchor at NBC15 news, and he put me in touch with you…the rest is history.
The ring is priceless to me. My grandma gave it to my mom, who later passed it on to me. I was willing to spend big money to tear up the concrete in order to get it back — and I ended up not having to do that because of your kindness.
Molly"
Never Give Up Hope
If you are reading this and lost your ring today, last weekend or 10+ years ago, please give us a call at (608) 492-1070. Write down as many facts about how and where you lost your ring.  These are so important and can be the deciding factor in whether your lost ring is found or will remain lost forever.  Molly never gave up hope and amazingly our paths crossed and we were able to return her lost ring back to her finger.  Please "Like" our Facebook page and you will get every Lost Ring Found Story delivered to you.  Also, please share this story on your Facebook page, so together we can reach more people to help find their lost rings.  Remember, every ring has a story, what's yours?
NBC 15 News Video
Here's a link to the NBC15 video, "Middleton Man Retrieves Woman's Lost Family Ring from Sidewalk Crack" that covered this lost ring found story, which includes the actual video of us retrieving the ring from under the concrete sidewalk.  It's pretty amazing.
More Lost Ring Stories
Interested in more Lost Ring Stories?  Check out our Lost and Found Ring Story Archive, Local Newspaper Articles featuring the Roekle Ring Finders or other General Interest Lost Ring Stories in the news from across the United States.