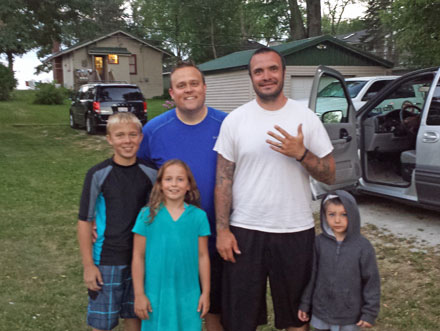 Wedding Ring Found in Green Lake, WI
I got a call from Adam one day about a Lost Ring.  He was from IL, but was up for vacation at his family cabin on Green Lake, WI.  He had lost his ring a number of years ago (turns out later I found out it was actually 7 years … good thing he said a "couple" on the phone!) while swimming in the water.  He even bought a cheap detector and tried to find it himself, but never found much other than fishing lure, sinkers and other metallic junk.  One day, he was searching on www.Google.com and found one of my Lost Ring Stories.  He contacted me to see if we'd be up for the challenge … which of course we were.   I joked above that it was good that he didn't tell me it had been lost for 7 years.  This really doesn't matter much, as the ring isn't going anywhere.  We have found rings in lakes that have been lost for 2, 5 and now 7 years!
Water hunts are always interesting, because there are really no points of reference when you are in the water.  This is true both when you lose your ring and when someone is hunting for it.  I often find myself walking the exact same path I had earlier, because it is difficult to know where you've been prior.  This is a reason I typically bring along some sort of marker to establish a grid (PVC pipes or soccer flag poles).  Adam had directed us to the area he lost his ring, but after searching it over and over again – I expanded the search area and wouldn't you know it, we … well I'll let Adam tell the story:
Lost Ring Green Lake, WI – 7 Years Ago
Dan, you asked for my story, well here it is. I am writing this now just past midnight, listening to Miles Davis, sipping on my favorite bourbon in front of a camp fire. All of my family has long since gone to sleep. I am still up completely amazed by what took place today.
About 7 years ago, almost to the day, I was up at our families cottage with my wife and a few of our friends. This was our last trip without kids since my wife was very pregnant with our first son. We had been in the water all day. I was always good about taking off my ring but for whatever reason this time I forgot. My wife yelled out to me that I needed to take my ring off. This was such an odd occurrence because I yelled back "it's pretty tight, it won't come off". I raised my hand up as I said that, at that moment I watched as my ring slipped off my finger and fall into the lake.
I frantically started diving down to find it. I spent hours looking with a snorkel. Meanwhile, my wife was sobbing from our pier. Our trip soon had come and gone as well as my ring. I felt horrible.
Don't Waste Your Time Renting a Metal Detector
This year , I found a used water proof metal detector and decided to look for the ring. I spent hours searching and came up empty handed. A Google search on how to find a lost ring underwater led me to Dan and his kids. I emailed them and we were able to quickly set up a day and time for them to come out.
Speaking with Dan he seemed very confident. They showed up on a Tuesday night around 6:15 or so. I explained in detail what happen and showed him where I was when I lost my ring. They quickly got suited up and jumped in the water. We left them alone and ate dinner while they got started.
After dinner. Me and the boys went down on the pier to check the progress. They had found a pile of metal objects from scissors to old beer tops from the 60s. Unfortunately still no ring. We watched and waited and they would find one metal object after another, but still no ring. It was getting dark and Dan said it was getting cold and the mosquitoes were getting bad, they had better wrap it up. After all, they had an hour and a half ride ahead of them. After a minute or so of Dan digging around in the water on the way out, he climbed up on the pier and plopped my ring in my hand. It had been 7 years since I had held that ring. I thought I would never see it again.
"I've Never Seen Daddy This Happy"
So as I sit here with my mind racing and adrenaline pumping, I am so grateful to Dan and his kids. They are professionals and I would recommend them to anyone. Their goal is to help people and spend time together as a family. I admire that. They are good people. In the hour and a half I was with Dan, it made me realize that I should strive to show my children the same values that Dan teaches, on a daily basis with his kids. My son said to my wife tonight "I've never seen Daddy this happy". I don't know if that's the case or not but it sure made my summer.
Never Give Up Hope
What a great story written by Adam, eh?  I'm touched that he picked up on the fact that I love spending time with my kids, and better ye,t setting an example to them that helping people in life is so important.  For those of you keeping track, this was lost ring #24.
If you know someone who has lost their ring outside in the yard, in the water, in the snow or in a volleyball court … give us a call!  Doesn't matter if it was yesterday, the week before or 7 years ago like Adam – we can find it.  Please "Like" our Facebook page and you will get every Lost Ring Story delivered to you.  Remember, every ring has a story, what's yours?
More Lost Ring Stories
Interested in more Lost Ring Stories?  Check out our Lost and Found Ring Story Archive, Local Newspaper Articles featuring the Roekle Ring Finders or other General Interest Lost Ring Stories in the news from across the United States.