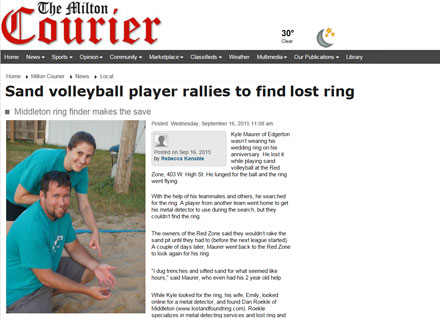 The Milton Courier Article – Lost Ring Found
A lost ring we found in 2015 in Milton. Rebecca Kanable, reporter for the paper agreed to run a story in The Milton Courier describing how Kyle lost his ring, how he found us and the long drive we too to find his ring with a metal detector.
Original Story
Here's the original story, including the story as told by Kyle. Lost Ring Volleyball Court – Love You More.
More Lost Ring Stories
Interested in more Lost Ring Stories?  Check out our Lost and Found Ring Story Archive, Local Newspaper Articles featuring the Roekle Ring Finders or other General Interest Lost Ring Stories in the news from across the United States.