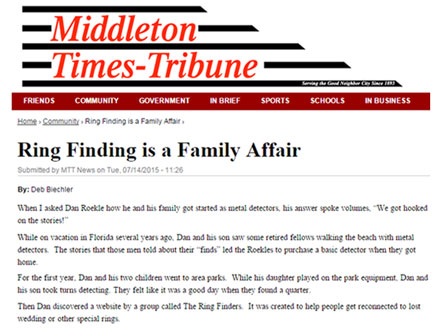 Our local hometown newspaper, recently did an article on us.  Deb Bechler, reporter for the paper focused on what we do and why we do it, with a focus on the fact that my kids join me on most hunts.  The Middleton Times Tribune article also covered a couple of my favorite lost ring stories, which will be familiar to you if you follow our stories.
Middleton Time Tribune Article Link
Middleton Time Tribune – Ring Finding is a Family Affair
More Lost Ring Stories
Interested in more Lost Ring Stories?  Check out our Lost and Found Ring Story Archive, Local Newspaper Articles featuring the Roekle Ring Finders or other General Interest Lost Ring Stories in the news from across the United States.