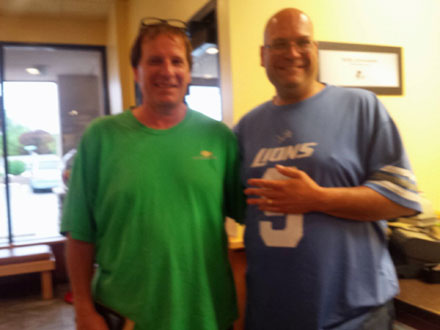 Occasionally, I will search Facebook for people who post something like "Worst day ever .. lost my ring" or "Anyone know where to rent a metal detector, lost my ring".  Sometimes, I will reach out to the people, even though they are hundreds or thousands of miles away, attempting to put them in contact with another professional lost ring hunter like myself to help find their lost ring with a metal detector.  People usually are skeptical and honestly most never return my Facebook message. One day I found a message from Steve who had a lost ring in Lake Michigan.  Steve did return my message and I was able to help put him in touch with a local ring finder who helped find his lost ring in Lake Michigan.  Below is the story told by Steve:
Lost Ring in Lake Michigan
I recently lost over 100 pounds and had not yet taken the time to get my wedding ring resized to fit properly. On Saturday, June 25'th, my wife and I were on vacation in Gaylord, MI, about 3 hours away from home. We were swimming at the beach and started horse playing and splashing each other. In a moment quicker than I could react, I felt the ring slip off my finger and into the murky lake. Just like that it was gone. The water was 4-5 feet deep and the sea bed had a thick layer of soft and deep sand. My wife and I searched using our feet and toes for nearly an hour before we ran out of time and gave up. I was very sad as I knew we were leaving the next morning early and would not have another chance to get in the water to find it.
Strangers to the Rescue
I posted this all to Facebook and never expected that post would eventually lead me back to the ring. Two days later, on Monday, June 27, I got a message from a man I never heard of before named Dan Roekle. Dan is from Wisconsin and apparently searches Facebook for public posts about lost rings and jewelry. He happened to see my post and reached out to me. He told me about a website that had a network of people who specialize in recovering lost jewelry for unfortunate souls like me who happen to lose something. From there I met a gentleman named Bob Gubbins who lives only 20 minutes from me and owns a summer vacation house just 30 miles north of where I lost the ring.
My Love is Forever
On the afternoon of Tuesday, June 28 I called Bob for the first time, explained my story and asked if he could help me. As luck would have it, he happened to be up north at his vacation house at that time and he told me he could search for it the following day. I was astonished. The next day came and I was getting a little nervous as he didn't reach out to me when he said he would. Just when I was starting to think it was going to be a fruitless search, in comes a picture message from Bob of my gold band on his boat!! I was literally jumping for joy upon seeing that image!! Now mind you, my ring isn't all that terribly expensive, but you just can't put a price tag on the sentimental value it holds. I cherish my marriage and look at the ring as a symbol of the undying love my wife has for me. This is not the first time I lost it but somehow it always seems to find it's way back to me. It's just a plain piece of 14k gold but inside it is inscribed with the words my wife chose over 21 years ago "MY LOVE IS FOREVER." That ring really means the world to me and I am so grateful to Dan and Bob for helping me recover it. Thank you.
Steve
More Lost Ring Stories
Remember, if you have a lost ring in Lake Michigan – don't waste your time looking for where to rent a waterproof metal detector – just call us!  Interested in more Lost Ring Stories?  Check out our Lost and Found Ring Story Archive, Local Newspaper Articles featuring the Roekle Ring Finders or other General Interest Lost Ring Stories in the news from across the United States.