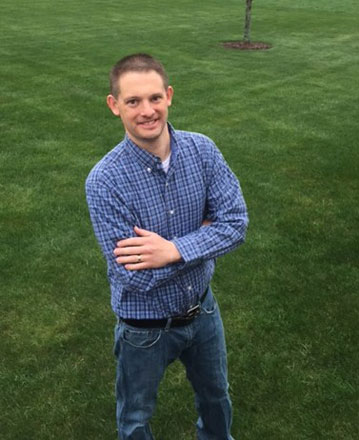 You can tell the weather is getting nice, because the lost ring calls are coming in.  Below is the story of a recent hunt in Arlington, WI.  Ever wonder the cost to rent a metal detector?  Well, it might be as much as your lost ring if  you don't know what you are doing.  Here's the lost ring story as told by Aaron.
The Golden Egg
On a sunny, 65 degree Friday afternoon in early April, I had just finished work for the week and was heading home.  It was one of those days in early Spring where everyone seemed to be  outside for the first time, visiting,  getting their early spring yard work done or simply enjoying the weather.   I knew driving home I was going to be no exception. As usual, I stopped on my way home to pick up my kids at their after school daycare.  I found them playing outside in the backyard at the sitter's house when I arrived, so I stood out back and chatted with the sitter and her husband a while all the kids played on this beautiful afternoon.
While driving home with the kids, I got thinking about what I wanted to accomplish to make the most of this great weather once I got home.  I knew I would have at least an hour before my wife would arrive home from work.  I decided that first I would throw a coat of wax on my car, since it was clean and had been washed and serviced at the dealership earlier in the day.  Next, I would spread the crabgrass preventing fertilizer on the yard, since rain was in the forecast for later in the weekend.  Yes, that was my plan and I was sticking to it, life was good.
Time to Fertilize the Lawn
I hooked up the spreader to the garden tractor, and proceeded to spread the fertilizer.  As I was finishing up, the tractor had stalled near the house in the backyard.  Rather than risk spilling too much fertilizer when re-starting, I just decided to unhook the spreader, set it on the mulch and I would quickly spread the last couple handfuls worth by hand.  By this point my wife was arriving home, it was getting dark and cold outside, so I put the tractor away and went in the house.
About 7:45,  we had finished eating dinner—our usual Friday fish takeout from the local restaurant/bar, that I had ran down to pickup after fertilizing the yard.  While rinsing the dinner dishes, and filling the garbage disposal I looked down at my left hand.   Something was missing… Where was my ring?!?!  At first it was disbelief.  I immediately rummaged through the garbage disposal…no luck.  I dried my hands and looked at them.  The skin where my ring once was, had turned back to flesh color, but it was still smooth and indented.  I could tell the ring had been gone for maybe a couple of hours, but not more than that.  From this point on, my relaxing Friday night had turned into anything but relaxing, and I had become a man on a mission…
Lost Ring in the Yard
So where do I start?  I walked the house, recalled what rooms I had been in, went thru the garage, looked on the freshly waxed car, in the car, in the trunk, in the buffing rags, on the tractor, in my pockets, in my coat, thru the garbage and anywhere in between.  No luck.
I knew I needed to get a flashlight and head outside in the dark. My wife agreed she would search with me on Saturday as well if I didn't find it tonight.  In 15 minutes time, I had gone from enjoying my delicious fresh salad and a fish dinner, in my warm house to frantically searching the dark, damp 40 degree yard, for a ring that has constantly been on my finger for nearly 12 years.  Why did this have to happen to me, tonight?  I had not planned hosting a golden Easter Egg hunt this year, but too late– it was already fully underway.
Cost to Rent a Metal Detector
My initial thoughts were that the ring could have flown off when scattering the fertilizer by hand at the end.  I was not wearing gloves and thought the most likely places would be in a 20×50 foot area near the house in the back yard or in a 15×30 foot area next to the driveway out front.  I searched both areas Friday night, with no luck.  Now that this little episode had completely ruined my Friday night (and my weekend), I was out there Saturday at the crack of dawn searching again.  My wife and I searched together on Saturday, walking the entire yard, with no luck.
Meanwhile on Saturday, a neighbor whom I had talked with after work on Friday, spotted me outside peering into the grass.  He stopped over and to asked what I was looking for.  I explained the story, and he offered use of his metal detector.  Having never used a metal detector I gave it a try anyway, but no luck.   We both searched, and considered it yet another great effort.
Saturday afternoon I got on the phone and contacted all the places I had been on Friday, thinking it may have fallen off at any of these places, in hopes that maybe someone had turned it in.  So I called where I ate lunch, where I picked up dinner, the daycare provider, the car dealership, etc.  No findings, but it was worth the try.  I has to exhaust all my possibilities.
Lost Ring Finder
I have always had a habit of periodically checking -in with my folks during the week, who also live in the area.  As usual, the typical "What's new" question comes out in the first or second sentence.  As you can imagine, this particular day I had BIG news when that was popped: "Well I lost my lost my wedding ring last night…"
My mom then replied with "Oh no, that's too bad, you need to call the ring finder guy.  I hear about his great findings on the radio and in the newspaper.  He has made remarkable recoveries, even in water.  He has a website too, give him a call."
I thought to myself: 'Seriously, is this for real?'  I didn't know such a person existed, but realistically, what are the odds he will find this gold ring of mine, it's like looking for a needle in a haystack.  However, I also I knew it may be my only viable chance to retrieve MY own ring.  I knew a replica could be re-made, but wouldn't be my original.
Lost Ring Search
Monday morning, I was ambitious to get to work.  While driving, I had visions of finding a ring under my desk.  I thought to myself 'Wouldn't that be wonderful!!'  On the way in, I called a co-worker who was in the office ahead of me and asked him to pull my garbage aside, before the janitor emptied it.  Perhaps it had slipped off when throwing something away on Friday.   Once I arrived, I scanned the parking lot on the way in, followed by an all out search of everywhere I had been in the building on Friday, including going thru file folders in my desk.   No luck.  Now I was getting desperate, and knew Dan Roekle would be getting a call from me tonight.
Monday night, after dinner I pulled up Dan's website.  Scanned thru it again and found his phone number.  I called and a left message.  Within a short time, I got a text back and he wanted to discuss yet tonight on the phone.  It was later in the evening, but for me, this was perfect. Dan called back, introduced himself and had me explain to him what I had lost and how it happened.  I explained the story, as it is written earlier in this article.  Dan proceeded to follow up with several great thought provoking questions, such as:
When did you last see your ring?
Do you recall any fast arm movements?
Did you wear gloves at anytime?
Did you notice your ring to feel loose?
Have you lost weight recently, causing your ring to be loose?
After finishing the story, Dan told me this sounds like a likely find for him, and believed we needed to search the yard.  He agreed to come Wednesday evening.  'Perfect!'  I also sent him a picture of my wife's matching wedding band at his request, so he knew what he was looking for, when he came.
Lost Ring Found #48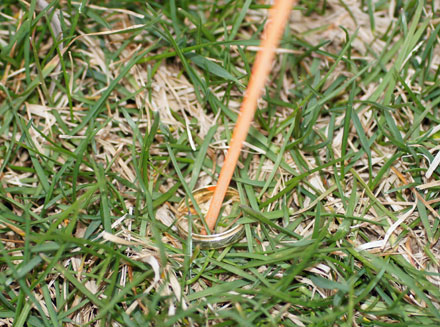 Wednesday night Dan arrived, right on time.  I met him with my wife's wedding band.  He scanned it with his metal detector to learn the properties of this ring.  Then we got to work.  We started in the 20×50 area in the back yard, my initial gut feeling, since I spent more time back there with the fertilizer and spreader.  Dan would mark the spots where he picked up signals, and I would comb thru the grass.   We managed to come up with some tin foil, part of a razor blade and a piece of a soda can.
After 30 minutes we moved to the front yard.  20 more minutes went by with a few places to mark and inspect.  I still had that hunch the ring was in the backyard, so I walked back to re-inspect some of the markers, finding nothing.  As I returned to the front yard, I noticed the metal detector laying on the ground with Dan not in sight.  I walked up to the metal detector, saw some markers, but no ring.  I looked up, and Dan was walking towards me.
"Any luck?" I asked him.  Dan shook his head and said something to the effect of "Do you recall walking any closer to the neighbor's driveway than that orange marker, when you lost the ring?"  He then pointed to an orange marker next to the metal detector.  There, lay my ring, complete with our wedding date engraving, on the grass with a marker thru its center.  Dan had found my ring!   "You are #48 he said."  We were both thrilled!
Don't Rent a Metal Detector
Over the past 5 days, I had walked that very area multiple times, as had other people.  No one had spotted the ring on our own, but the important thing was, it was found.  The golden Easter Egg hunt was finally over, just before Easter.
I am grateful to Dan for finding my lost ring and highly recommend him to anyone who is in my predicament.  Like Dan says, don't rent a metal detector, call him.  He has the experience, is reasonable, honest and gives a percentage of his ring finding rewards to his kids' WELS Lutheran school, truly a great cause.  People like Dan are able to both enjoy their hobby, while helping others fulfill a need.
Thanks Dan!
Aaron