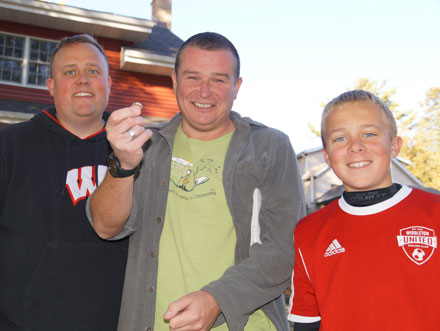 Lost Ring in Middleton WI
Lost Ring Hunts seem to come in waves for us, either all at once or not at all.  We've been in a dry period recently, after an insanely busy summer.  The month of September we got maybe 1 or 2 calls for lost rings all month.  We were stuck at 25 lost rings found with our metal detector.  My 2015 goal is to get to 30 before the end of the year, and with the chill in the air, it was looking like we would not reach that goal.   Then, right before leaving for my son's soccer game, the "bat phone" went off … it was a lost ring in Middleton WI.  Most of the calls recently have been 1 to 2 hours away.  There is nothing more than I hate than saying "no" to a ring hunt, but at times it's just not possible to take a half a day to go on a hunt.  I try my best to help everyone out who calls me, either in person or over the phone by suggesting someone else closer to them or give metal detecting tips/tricks from past hunts.  Fall is hard because the days are short and our lives are filled with soccer, soccer and more soccer.  So to get a call 5 mins away was incredible.
Fall Cleanup – Missing Engagement Ring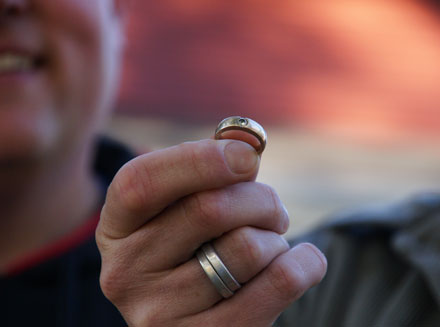 Justin explained that he and his wife were doing fall cleanup, and prepping a rose bed for winter.  They were cleaning away brush and replacing with a bail of fresh straw.  After they had spread all of the straw, his wife noticed her engagement ring and wedding ring were both missing.  They were not soldered together, making it even more difficult to locate.  The lost rings were made of a combination of rose gold and silver, giving them a darker color and camouflaging them with the brush and soil.
Needle in a Hay Stack
As you can imagine their hearts sank.  They immediately began searching for the rings.  Justin raked all of the straw they had spread onto their driveway.  He then got down on his hands and knees and painstakingly searched through the pile of straw with his hands.  Would you believe … he actually found one of the rings – the lost wedding band!  However, after searching for what seemed like hours, he was not able to locate the 2nd ring, the lost engagement ring.   Would he ever be able to find it he wondered?
The Neighbor with Tools
Everyone has that neighbor who seems to have every tool imaginable.   Justin had one of those neighbors, and he wondered if he had a metal detector?  Turns out he did not have a metal detector, but he knew of someone who called himself a "Professional Metal Detector" , who had helped a friend of his look for a lost ring at a farm she volunteered at.  Now if you are a Lost and Found Ring Story avid reader, you'd be saying to yourself … "Dan, that sounds familiar, didn't you help someone who lost their grandmother's ring at a farm"?  The answer would be "Yes"!  I didn't actually find the ring, but I did search through piles and piles of "muck" trying to locate the lost ring.  Kelly later found it in a dust pile ready to be dumped in the garbage!  Check out that story here.
Lost Ring – Metal Detector
Justin's neighbor told him to go to Google, search for Metal Detector and he'd find me right away.  He did just that and typed in "Lost Ring Middleton WI Metal Detector" and up came the www.LostandFoundRing.com website.  I told Justin we'd be out right after Carter's soccer game.  When we arrived, we were greeted by Neti, Justin's Jack Russell dog.   This is another common theme in our Lost Ring Hunts – dogs and my daughter Kylie.  Neti was very nice and excited to see Kylie, and distracted her while she was supposed to be videotaping the hunt with our GoPro!
4 Minutes 50 Seconds
We began our search with a handheld metal detector called a pinpointer.  We scanned the hay, paying special attention not to trample the plantings in the garden.  No hits.  I then began to sweep the area with my metal detector and got a hit … but it was under the soil and given the ring was lost within the past 24 hours, it was not worth digging.   Then, about 2 feet away, a nice strong, repeatable signal … the sweet sound of gold.  Once you've been metal detecting for a while, you learn that sound and you learn to love that sound … because after you hear it … it's usually followed by a huge smile.  Kylie proudly told me it only took 4 minutes and 50 seconds … she was timing it!
"You Guys Rock!"
I got the handheld metal detector out again and scanned the area that gave off the signal.  I started to pull away the grass, and there it was – shinning right back at us … the lost engagement ring.  It's amazing how a ring can so quickly disappear from sight, and no matter how hard you look, you cannot find it.  We called Justin over and he could see the glimmer from 5 feet away … he responded with a joyful, "You guys rock"!
This was lost ring #26 found … maybe 30 might still be possible?  It wasn't our quickest find, but it was definitely Top 3 for speed.  Thank you Justin for the generous reward and it was a pleasure meeting you and Neti! Please "Like" our Facebook page and you will get every Lost Ring Story delivered to you.  Remember, every ring has a story, what's yours?
YouTube Video of Lost Ring Hunt
More Lost Ring Stories
Interested in more Lost Ring Stories?  Check out our Lost and Found Ring Story Archive, Local Newspaper Articles featuring the Roekle Ring Finders or other General Interest Lost Ring Stories in the news from across the United States.