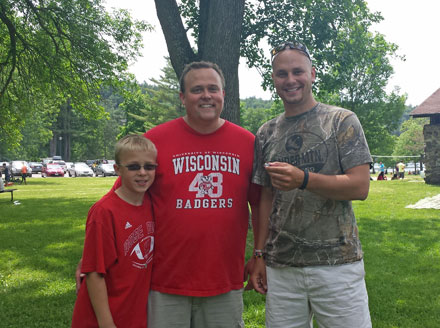 Devil's Lake State Park is probably our family's favorite place to go experience the beauty of God's creation.  The lake is incredible from either the North Shore or the South Shore.  I remember going to the park my senior year last day of school for the first time, and then returning year after year with our kids.  They love hiking the rocks, seeing the various landmarks (Devil's Doorway and Balancing Rock are favorites).  So, when we got a call from Jonny to look for his lost ring in Devil's Lake – we were all in.  This would be our first official water search, and our first experience with metal detecting in a state park.  In order to simply bring in a metal detector into the park, you need an official form that is signed by a ranger.  This makes sense, as there are many Indian effigy mounds in the park and years ago people disgraced these looking for relics.  So, after getting the proper permission and getting the details form Jonny – we began our first water hunt for a lost ring.
3 Year Anniversary Fail
If you read through my lost ring stories, many of them happen to occur on Anniversary's, which I find interesting.  What better way to remember your anniversary then losing you ring – a symbol of your marriage.  Ironic, eh?  Below is the story of Jonny's Lost Ring, as told by Jonny.
Devil's Lake State Park
"It was my 3 year anniversary, and my wife and I were celebrating at Devil's Lake State Park in Baraboo, Wisconsin.   We hit the beach, and I decided to play some catch with a football.   I noticed that my tungsten carbide ring was a little loose on one of the throws, and I probably should have taken it off, but I didn't.  On the very next throw, I looked down and my ring was gone.  I wasn't sure if it flew off on the throw, or fell off when I put my hand down.  I was sick to my stomach.  There were a number of people on the beach that day, so we rounded up 6-7 of them to help look for my ring.  However, after a long search, nothing turned up.  I thought for sure I would never see my ring again.
Lost Ring Recovery Service
I called around trying to find a metal detector to rent that could be used in the water, but after calling a number of places … no luck.  I turned to Google and found a different "Lost Ring Recovery Service".  I contacted a member on that directory, but after a couple of emails back and forth, communication stopped and he didn't seem interested in helping.  I then searched and found Dan, and he responded almost immediately.  Unfortunately, he was out of town on vacation, but he kept in touch and said he would help out if he could.  He lives in the Madison area, so I was impressed he was willing to drive close to an hour just to help me out. On Father's Day weekend, he made the trip up to Devil's Lake to search for my ring.
Metal Detector Guy and His Son
Dan asked tons of good questions to get an idea on the location, what I was doing at the time, how deep in the water I was, where I was standing and what my ring looked like.  He then performed the search on his own along with his 11 year old son, which I thought was cool.  He said after 2 hours, a handful of bottle caps, pop tops, $0.39 cents in change … he was about to give up and then got a promising hit on his metal detector – my ring.  Dan later called me and told me the entire story, I couldn't believe it – he had found my ring.   Later that day we met at the park and he handed the ring back to me.  My wife and I both fought back tears, what am amazing feeling.  My wife and I can't thank you enough Dan and Carter for finding and returning my ring!"
Never Give Up Hope
What a fun search this was.  It always seems like it is that last hit right before we are about to give up that turns out to be the lost ring we are looking for.  This was Lost Ring #6! If you are reading this and lost your ring today, last weekend or 10+ years ago, please give us a call at (608) 492-1070. Write down as many facts about how and where you lost your ring.  These are so important and can be the deciding factor in whether your lost ring is found or will remain lost forever.  Please "Like" our Facebook page and you will get every Lost Ring Story delivered to you.  Also, please share this story on your Facebook page, so together we can reach more people to help find their lost rings.  Remember, every ring has a story, what's yours?
More Lost Ring Stories
Interested in more Lost Ring Stories?  Check out our Lost and Found Ring Story Archive, Local Newspaper Articles featuring the Roekle Ring Finders or other General Interest Lost Ring Stories in the news from across the United States.