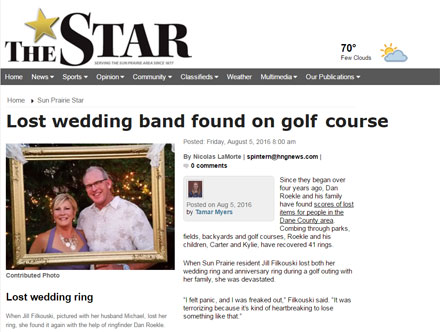 What a great article by Nicolas LaMorte from the Sun Prairie Star Newspaper on a recent lost ring hunt we went on with our metal detectors.   Jill called us after searching for "lost ring sun prairie" in Google. hoping we could help her locate her lost ring on a golf course in Sun Prairie, WI.  Initially, I was a little  unsure we'd be able to find the lost ring.  However, when Jill told me that she found one of the rings while searching the day she lost it – I had hope we could help locate the second lost ring.
Lost Ring Sun Prairie
I arrived early one weekday to search for the lost ring with Jill and her husband.  We search early to avoid any golfers who would be using the golf course later in the day, as well as I had to start my "real" job at 8:00.   I brought two metal detectors, so that Jill and her husband could help cover more ground.  The ring was recently lost, so there would be no need for digging.  The lost ring should just be laying on top of the grass … unless someone else had found it already.  After getting permission to use a metal detector on the golf course (not an easy thing to get) we were off.  Check out the original Lost Ring Story for more details, or the article below from the Sun Prairie Star: Lost Wedding Ring on a Golf Course – Found in Sun Prairie, WI.
Sun Prairie Star Article Link
Lost Wedding Band Found on Golf Course
More Lost Ring Stories
Interested in more Lost Ring Stories?  Check out our Lost and Found Ring Story Archive, Local Newspaper Articles featuring the Roekle Ring Finders or other General Interest Lost Ring Stories in the news from across the United States.