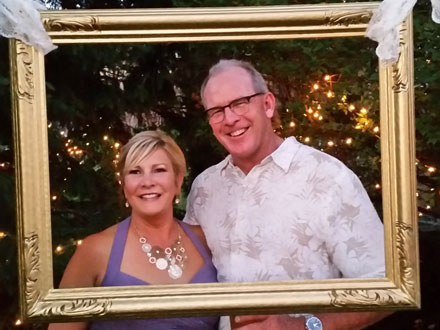 When we get a call to search for a lost ring with a metal detector, I have a series of questions I typically ask.  How did you lose the ring?  Where was the ring lost?  How many hours / days have passed since the ring was lost?  What is the ring made out of?  When I got a call from Jill about a lost ring, I honestly didn't have a good feeling after hearing her answer to the question, "Where was the ring lost?" Her answer?  She had a lost wedding ring on a Golf Course.  Fortunately, she knew it was somewhere between Hole #3 (a par 3) and Hole #4 (a par 5).  While this translates to over 3 football fields in length – at least it wasn't between Hole #1 and Hole #18!
Initially, I doubted whether we would be able to find the ring in such a large area, but then Jill told me she had actually lost 2 rings, and had found one, an anniversary band around the Hole #4 tee box.  If she was able to find one lost ring just by searching with her eyes, surely I could help find the other lost ring with a metal detector, right?  We agreed to meet the next morning at 6:00 am, so that we would not disturb anyone on the golf course.  Given the amount of ground we had to search, I brought my 2nd metal detector, so that Jill and her husband could help search for the lost ring.  After a quick lesson on how to use the metal detector, we were off.   Below is the story of our search as told by Jill:
Lost Wedding Ring on a Golf Course
On Sunday, June 19th ( Father's Day),  I planned a golf outing for our family of 16 at the Sun Prairie Golf Course complete with gift bags, games and prizes to the hole winners!  What was supposed to be a fun event turned into complete chaos when I realized that I had lost my wedding ring and anniversary band somewhere between Hole #3 and Hole #4.  It was sunny that day, so I decided it would be a good idea to put on sunscreen.  I took off my rings at the men's tee box on Hole #3 to apply the sunscreen, setting them on the seat of the golf cart. I got sidetracked and did not put them back on.  I did not realize this until using the restroom after two complete holes, the span of about 3 football fields.  Panic set in when I realized what had happened!  I sent the rest of my group on their way to finish golfing, while my sister and I retraced our steps, looking for over 2 hours.  Miraculously, we found the anniversary ring at the beginning of Hole #4.  We continued the search for the lost wedding ring, concentrating on the area the 1st ring was found.  Unfortunately, we did not find the lost wedding ring on the golf course.
After the family golf match was over, my husband and I continued the search.  We were joined by a family of four who so kindly stopped their game to help us, confirming to me that there are good people in this world!  Still no wedding ring.  We finally gave up and headed home to a cookout with our family.  There, my Dad mentioned he had seen on the local news a story about a guy who helps find lost items with the use of a metal detector.  Unfortunately, he couldn't remember the name of the person or the business.
Dan Can Find It
Later that evening, I posted on the Welcome to Sun Prairie Facebook page explaining how I had a lost wedding ring on a golf course.  I received back a link from a gentleman to the website, www.LostandFoundRing.com along with a comment to give Dan Roekle a call, simply stating in the comment "Dan can find it".  Turns out this was the same guy my Dad had seen on NBC15 evening news.
Diamond in the Rough
Quickly, I contacted Dan and we set up a time to meet at the golf course on Tuesday morning.  He requested that I get permission to search the golf course with a metal detector, as he had a similar request denied before by a golf course.  I called Sun Prairie Golf Course and spoke to Steven one of the owners.  Again, I received confirmation in humanity.  They were more than willing to let us search on Tuesday morning!  He even added that much of their staff had looked the night before!  We arrived on Tuesday morning, approximately 36 hours after losing my ring.  We were greeted by staff and the owners with a complementary golf cart to use on our search.  Dan brought another metal detector for my husband to use.  After searching for about an hour, my ring was found a hole and a half away from where it started the ride on the seat of a golf cart.  I cannot express the joy!  Had it not been for Dan, I don't think I would have found my lost ring.  I thank God for the graciousness shown by him and the people at the golf course.  Needless to say, I will leave my rings at home when going golfing!!
Jill
Metal Detecting for a Lost Ring
What a story, eh?  One thing that Jill left out … is that her husband was the one who actually found her lost wedding ring on a golf course.  When we started, we decided to split up i order to cover more ground.  I went one direction and Jill and her husband went the other.  After about an hour of searching, I heard a scream – which could only have meant one thing – they had found the lost wedding ring!  If you are reading this story after recently losing your ring, remember don't lose hope.  If we can find a ring that traveled on the seat of a golf cart over 3 football fields … there is a chance we can find your ring as well.
More Lost Ring Stories
Interested in more Lost Ring Stories?  Check out our Lost and Found Ring Story Archive, Local Newspaper Articles featuring the Lost and Found Ring Finders or other General Interest Lost Ring Stories in the news from across the United States.