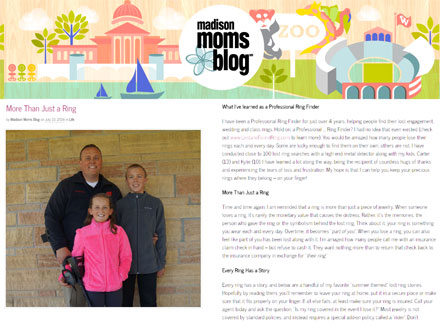 Late last year, I wrote my first guest blog for Madison Mom's blog.  The response I got was tremendous, so I asked if I could do another one!  This blog is about some of my favorite lost ring stories, and also talks about how a wedding or engagement ring is so much more than a piece of jewelry.  There are some people who are totally fine with just replacing a lost ring.  The ring is a symbol, but does not carry a huge amount of meaning.  These are not the people who I have meet … most of the people that call me for help finding their lost ring would do absolutely anything to get their lost ring back.  That's the cool part about what we do, we love metal detecting and can therefore use our metal detectors to help people out who are in need.  If I wasn't looking for a lost wedding ring, I'd still be metal detecting looking for some other lost treasure – so might as well do what I love and help people in need.
I hope you enjoy the story and remember to also follow Madison Mom's, which is a great resource for moms … and dads!  They publish new article almost every day, or even multiple times per day sometimes.  I hope to remain on as a guest blogger, so look for another article maybe later this year.
Original Story – More  Than Just a Ring
Madison Mom's Blog – More Than Just a Ring
First Madison Mom's Guest Blog – What's Your Hobby?
More Lost Ring Stories
Interested in more Lost Ring Stories?  Check out our Lost and Found Ring Story Archive, Local Newspaper Articles featuring the Roekle Ring Finders or other General Interest Lost Ring Stories in the news from across the United States.