Juneau County Star Times Article – Lost Ring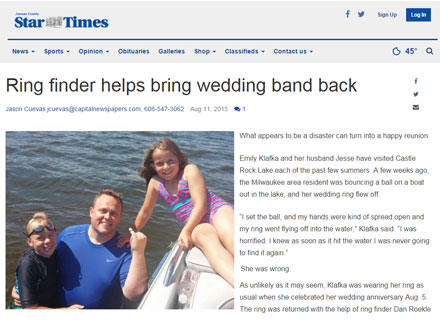 We recently got a call from someone searching for ring finder help, and it turned out to be one of our best lost rings found with a metal detector to date!  This lost ring was found in Castle Rock Lake with a water proof metal detector. Jason Cuevas, reporter for the paper agreed to run a story in the Juneau County Star Times describing how Emily lost her ring, how she searched for ring finder help, and how she found us and the adventure we took to return her lost ring to her.
Original Story
If you want to read the original story, along with the YouTube video of when we told Emily we had found her lost ring, check out the original blog.  Emily lost her ring the week prior, and Castle Rock Lake is a huge lake.  Returning the following week to try to locate the spot where their boat was anchored was a miracle alone.   We used cell phone pictures taken the day the ring was lost to help us pinpoint the location.  Once on the spot, we used water proof metal detecting equipment to meticulously search the area for any metallic object.  After hours of searching, our metal detector gave a really nice strong signal – we knew it was something good.  Could it be the ring we were looking for?  Amazingly, it was!  Emily called us for ring finder help … and we delivered!  What a relief it must have been for her to put her lost wedding ring back on her finger … where it belongs.
YouTube Video
More Lost Ring Stories
Interested in more Lost Ring Stories?  Check out our Lost and Found Ring Story Archive, Local Newspaper Articles featuring the Roekle Ring Finders or other General Interest Lost Ring Stories in the news from across the United States.