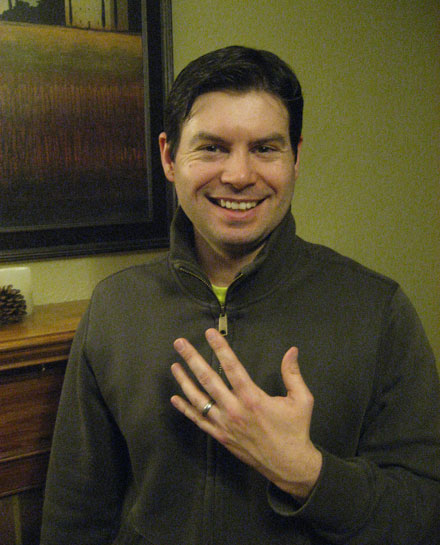 Wedding Ring Lost in Redstone Lake, WI
Summer is definitely our "busy season".  The last week of July and first week of August were extraordinarily busy for us in 2015.  During this 2 week stretch, we found and returned 5 lost rings for people.  One of those lost ring was Nick's and was lost in Redstone Lake, WI.
Nick explained that he was at his wife's family cabin the previous weekend, and while playing with one of his kids, he lost his wedding band.  When I asked him if he was 100% sure he lost it while in the lake, he said with confidence that he was sure.  When looking for a lost ring in the lake, this is honestly 90% of the work.  If you know absolutely that you lost your ring in the water, then this increases the chances of a Ring Finder returning it to you.  Water hunts can actually be easier than land, because there is so much less junk in the water than on land.  However, knowing the location is key.
The Best Map I've Ever Received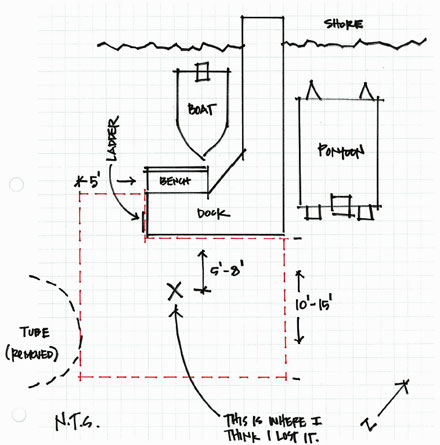 People who know me, know that I'm a little OCD (my wife would beg to differ, pointing to the pile of dirty clothes that routinely sits next to my night stand in our bedroom).  I have also had the label of "perfectionist" put on me once or twice by a past or current boss.  I'm often asked why I metal detect and more specifically why I hunt for lost rings.  I think it is this attention to detail that is such a good match for the metal detecting hobby.  The reason a person calls a Ring Finder is because they have been unsuccessful finding their lost ring.  A Ring Finder, like myself, can bring a fresh set of eyes as well as experience on where and how to look for a lost ring.
"X" Marks the Spot
Nick has to be one of my favorite customers of all time.  He provided me with this map … on graph paper … almost to the exact scale of the dock along with all related landmarks in the water (boat, tube, ladder, etc.).  Please, take a second and admire it – it's a thing of beauty … ok, seriously – we never get maps.  People can hardly remember how or where they lost their ring, because it is such an emotional and nerve racking event.  Nick drew this map up from memory while sitting at his desk in Minnesota.  The smile on my face was quickly replaced with a look of uncertainty.  What if I didn't find the lost ring?  I've never been handed a map before … one could argue this resembled a treasure map, heck it had an "X" to mark the spot the ring was lost.  What would Nick think of this Ring Finder or so called "treasure hunter" if he couldn't find a lost ring with a map basically guiding him to the spot?
Gear Up and Jump In
I get really excited to go on Lost Ring Hunts, but like I said earlier – this hunt feel on a busy 2 week stretch.  Redstone Lake is over an hour away from Madison, and being a Ring Finder is a side job reserved for nights and weekends.  We had earlier searched for Lost Rings in Green Lake, Webb Lake and Castle Rock Lake.  When I jumped in that water, I was praying it was going to be a quick hunt.   I don't remember the exact time it took to find Nick's ring, but it was under 30 mins.  Would you believe it was exactly where he had drawn the "X"?
Never Give Up Hope
If you are reading this and have lost your ring, please take a min and draw me a map like the one above!  Seriously, even if you aren't an artist or can only draw stick people … write down as many facts about how and where you lost your ring.  These are so important and can be the deciding factor in whether your lost ring is found or will remain lost forever. For those of you keeping track, this was lost ring #22.
If you know someone who has lost their ring outside in the yard, in the water, in the snow or in a volleyball court … give us a call!  Doesn't matter if it was yesterday, the week before or 7 years ago – we can find it.  Please "Like" our Facebook page and you will get every Lost Ring Story delivered to you.  Remember, every ring has a story, what's yours?
More Lost Ring Stories
Interested in more Lost Ring Stories?  Check out our Lost and Found Ring Story Archive, Local Newspaper Articles featuring the Roekle Ring Finders or other General Interest Lost Ring Stories in the news from across the United States.