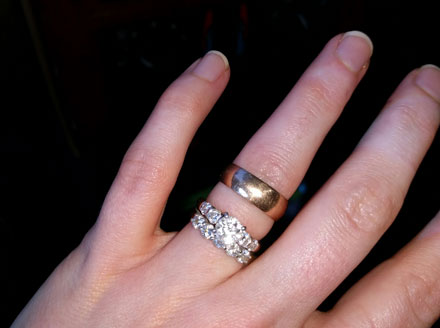 When I get a lost ring call, there are just some that I have an instant gut feeling that we will be able to find and return it to the owner.  Sometimes, the conditions of how the ring was lost are just right, and unless someone else finds the lost ring first – we have a high probability of finding and returning the lost ring with our metal detector.  This was the case with Kevin's ring.
Late Night Lost Ring Message
I received a message to our Lost and Found Ring Facebook page, from Kevin's wife, Justine late one night before bed.  Time is critical when a ring is lost, but especially when it is lost in a public location.  Kevin's ring was lost in a public park that was used for the Madison Ultimate Frisbee Association.  This wasn't my first search for a lost ring playing Ultimate Frisbee, last year we found a lost ring under similar circumstances. Ironically, neither person reported they had a lost ring playing ultimate frisbee.  Rather, both men had removed their rings and put the ring in a "safe" location … only to lose it from that safe location later.  Ironic, eh?  Because this lost ring was in a public location, I wanted to get out and search for it with my metal detector within 24 hours, and more importantly, before the next league match the next night.  Below is the story of how the wedding ring was lost and found.  It's a great story as told by Kevin's wife, Justine:
Lost Ring Playing Ultimate Frisbee
Kevin and I met when we happened to be on the same ultimate frisbee team in 2011, started dating at the end of the season, and haven't looked back since. We ordered custom frisbees to hand out as party favors at our wedding, and our now 2-year old daughter is learning to be an avid sideline fan by attending our weekly games. Suffice it to say, ultimate frisbee holds a special place in our lives, without it our family would not exist!
It is therefore unfortunate that Kevin had lost his ring playing ultimate frisbee. He is always very careful and places his wedding ring in a pocket of his wallet, which goes inside a zippered pocket of his sports bag, before leaving the house for frisbee games. At the game last week, Kevin didn't think twice when he took out his wallet at the field to pay someone back for dinner. After Kevin got home and took his shower, he went to put on his wedding ring and it was nowhere to be found. Not in his wallet, not in his sports bag, not with any of the frisbee gear. The sun was setting outside and I had just finished getting our daughter ready for bedtime when Kevin told me the news that he lost his wedding ring, likely at the frisbee field.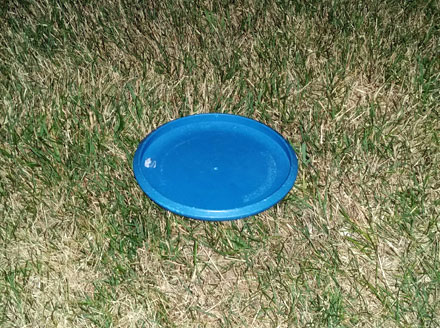 With a sense of dread, we went to the field equipped with headlamps and flashlights; by this time it was pitch black. I hoped we would catch a gleam of metal in the light beam of our flashlights, but no luck. Our daughter sat in the dark in the stroller getting eaten by mosquitoes while Kevin and I paced back and forth at a turtle speed along the sideline of the playing field. Both of us quiet and crying, for the lost ring not only represented our marriage and love, but that of Kevin's parents. Kevin's father died before I met him, and Kevin chose to wear his dad's wedding ring as his own. The loss of this wedding ring was devastating as it is a symbol Kevin wears every day for both the love in our marriage and that of his parents.
Driving home at a late hour, far past our tired daughter's bedtime, Kevin and I were in shock that the ring was gone. I searched online for where to rent a metal detector to come back to the field another day, and Dan's www.LostandFoundRing.com website came up as one of the search results. At 11:00pm, I messaged Dan on Facebook, thinking he would see the message the next day; however, Dan responded immediately and we texted back and forth to set up a meeting time the very next day to search for the lost ring with his metal detector, which was also his son's birthday. I couldn't believe how fast and accommodating Dan was, willing to meet me during his lunch hour on an already busy day for him!
Metal Detecting for a Lost Ring
We met at the frisbee field, I showed Dan the general vicinity where the ring was lost, and he set to work with his metal detector. We drew a few onlookers wondering why someone was searching around with a metal detector, and much sympathy was offered when the onlookers learned of my husband's lost ring. The (very caring) family asking questions lived in a house overlooking the park and asked for my contact information, assuring me if they ever found the lost ring they would call. Watching from a few yards away while talking with the onlookers, I saw Dan drop to his knees a few times when he would get a signal from the metal detector and my heart would beat rapidly, but Dan always stood up and continued the search. After about 20 minutes, which is all the time Dan was able to afford on his lunch break, he walked up to me and asked the time. I looked at my phone, told him it was noon so I knew we'd have to leave, and much to my surprise Dan opened his hand saying, "Well that's good timing." I couldn't believe I was seeing Kevin's wedding ring in Dan's hand, right there! An enormous wave of relief washed over me, and although my reaction may have seemed calm, in my heart and mind I had not experienced a similar feeling of joy since our daughter was born.
"I'm So Happy Right Now"
Walking back to our cars, Dan told me that he gets gut feelings of just knowing whether a ring is going to be found or not. I admitted that I had not accepted in my heart that we would never find the ring, a symbol for so much joy and love, and it turns out both of us had the correct gut feeling in this case. Dan explained that even though he heard the ring blip on his metal detector and knew it was there with his handheld detector baton beeping, he still never saw it with just his eyes. The ring is yellow gold, a similar color to old grass, and Dan said it was virtually impossible for him to see at the base of the grass. No surprise then that we didn't find it in the pitch-black night.
I texted the accompanying picture to Kevin while he was at work with the caption, "I'm not taking this off until you get home," to which Kevin, a man of few words or emotional expression, simply replied, "I'm so happy right now." As one of the few people who can read Kevin's emotions, I cried tears of joy at the relief I knew he felt. Upon his return home after work, Kevin gently took my hand and removed the ring from my hand to place it back onto its rightful spot on his ring finger. Thank goodness for a good sixth sense, not giving up after the nighttime search failed, and for Dan for coming to the rescue only 13 hours after I contacted him at 11pm the night before! He was kind and caring, and while I hope we never need to ask for Dan's assistance again for obvious reasons, I would recommend him in an instant to my friends and family. Thank you DAN at www.LostandFoundRing.com for helping to retrieve a ring that represents multiple generations of happiness!
Justine
More Lost Ring Stories
This was lost ring number #40 – a milestone!  Interested in more Lost Ring Stories?  Check out our Lost and Found Ring Story Archive, Local Newspaper Articles featuring the Lost and Found Ring Finders or other General Interest Lost Ring Stories in the news from across the United States.