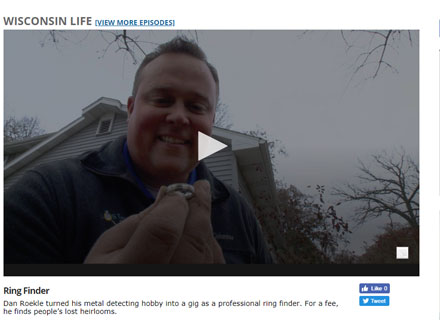 Tonight is the night my episode of Wisconsin Life airs on TV.  I have been waiting patiently for over a year for the episode to air. Wisconsin Life is an Emmy award-winning TV Series on PBS.  I should know, because the producer of my episode, Trevor, was in the same category as a story of mine that was nominated for an Emmy.  That story was The Widow's Ring and appeared on NBC15. Unfortunately, neither of us won an Emmy in that category, but he did win one for another episode of Wisconsin Life in a different category.  So needless to say … I'm about to be famous … PBS famous!
Wisconsin Life – The Ring Hunt
It was October of 2017 when the producer and I meet at a home in Fitchburg. A guy had called me a couple of weeks prior, about a lost UW – Madison class ring he had lost years ago. The only problem was he had sold the house a couple of years ago. I told him to get permission from the current homeowners, and I'd do the search.  He came back with the permission and a request.  "Could he find my ring also?" What? Two lost rings on the same property? I couldn't lose. 
Seeing as this was going to be on TV, I thought I'd better do a little bit of pre-work before the camera showed up. I scanned the yard to see what I was up against. I then marked 5-6 promising signals – one that was banging. I was pretty sure that was one of the rings.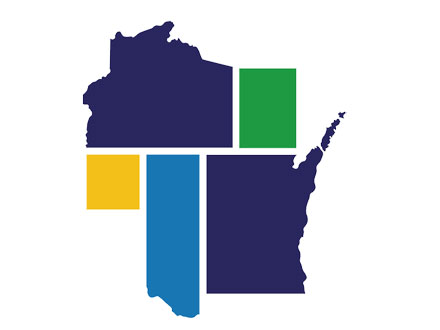 The next day, Trevor showed up and I began searching. I dug 3-4 of the signals, all while he was filming. Junk … junk … junk. Then, I smiled to myself – let's go get that ring. I walked over to the spot I had marked previously. The signal was strong, repeatable and in the range of gold. I was ready to make history. I plunged my shovel into the ground and cut a nice plug. I reached in and flipped the plug over. I hope Trevor had a good angle to see the ring, shinning in all it's golden glory. But then … like so many times before … out popped a pull tab. Seriously?
Starting to Get Nervous
Right about now, I started to freak out. I had already dug my 5 best signals. I started to get nervous. There was no way they would air an episode on some nerd with a metal detector not finding rings, right?  With ring hunting, sometimes you have to remove the junk in order to uncover the treasure.  It was starting to get dark, and my chances of finding these rings were slipping away. 
Then, I got one last really good signal near a tree. The owner had lost his ring the year before doing yard work. He had replaced the ring since, but told me it never fit quite right. Watch the video below, and you will see the biggest smile on my face as I pulled that ring out of the ground.
Episode Video Link: https://wptschedule.org/episodes/48189805/Wisconsin-Life/Lost-Art-Found-Treasure/