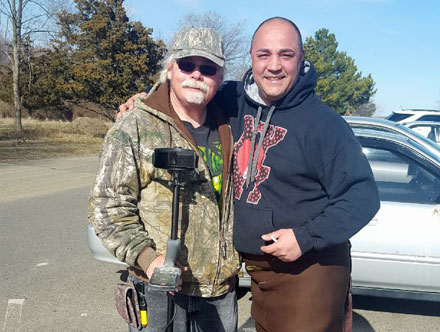 I was on vacation with my wife in Florida when the call came in. Figuring I couldn't do a lot from the Wyndham Resort, I let the call go to voicemail. A little while later I listened to the voice mail from Charles. He was from Connecticut and asked the question, how do I find my lost ring? My wife and I headed down to the pool to sit out and relax. Why not try to help out? So, I sent Charles a text and said I was not in his area, but I'd be happy to try to connect him with someone.
How Do I Find My Lost Ring?
It isn't uncommon for me to get a call from out of state with someone asking how do I find my lost ring. I typically give people tips and suggestions on how to search for the lost ring, or I will point them to a lost ring finder directory I am a member of. Charles explained the ring he lost was in the water and he had already attempted a search. He contacted a member from the directory closest to him, but after a couple of hours he hadn't heard anything back and was anxious to have someone come out and search. Should he rent a metal detector? Not yet I said.
Facebook to the Rescue
I have a love / hate relationship with Facebook. When it comes to bringing people together around a common interest, it is amazing. I searched and found a metal detecting group in Connecticut and within a couple mins my request to join the group was approved.  Next, I added a post, asking if anyone was near the city Charles lived in who could help with a lost ring hunt. Less than an hour later, there were 5 or 6 comments and Ben responded that he'd be happy to help out. Really? That was easy. Charles called me around 7:00 am in the morning and before 1:00 pm, I had helped connect him with someone to search for his lost ring. Amazing, eh?  Just hold on – it's gets better.
And Now for the Rest of the Story
I was texting Charles ba
ck and forth, so I never really got the entire story of how the ring was lost. Well it was a heck of a story. The ring was lost during his wedding ceremony! His new bride, Indra, was trying to insert the engagement ring into the wedding band, and unfortunately dropped the engagement ring. Now this wouldn't be a problem, except they were standing on a dock over a body of water. Yep, the ring bounced a couple of times and fell right through the slates of the dock and into the water, Long Island Sound beach. The wedding ceremony continued, but Charles couldn't stop thinking about that ring in the water.  He had to do something.
Always Listen to Your Wife
Later that night, Charles went back home and changed into shorts and a t-shirt. Why? So that he could jump in the water and try to find that lost ring of course. Problem was the water temp was 41 degrees cold. Indra pleaded with him not to go out, but Charles just had to try. After 30 mins, he wife, sister-in-law and father-in-law were screaming at him to get out of the water. They eventually flagged down a police officer to help get him out of the water.  Well, Charles should have listened to his wife and family, because he was now suffering from hypothermia. Police, fire and an ambulance all showed up on the beach. He refused medical treatment, and eventually warmed up and felt better. However, he couldn't stop thinking about that lost ring. How do I find my lost ring? Not like that Charles, not like that.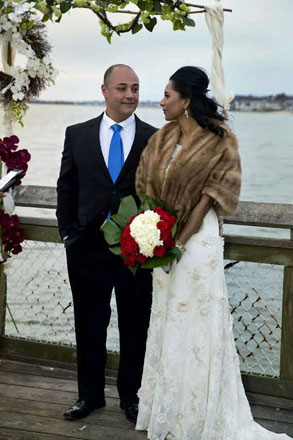 Not Just a Wedding Photographer
Charles' wedding photographer, Jerry, has been doing weddings for years, and never seen a ring lost during a ceremony. He posted the story on his Facebook page later that night. This post was seen by a friend of his, a volunteer firefighter (maybe he helped Charles out of the water!).  He then reached out to his network on Facebook and Ben saw the post. Wait, wait … Ben? Wasn't that the same person who responded to your post, Dan? Well yes it was. Would you believe me if I told you that after seeing the post, Ben went out with his metal detector and found Charles' ring around midnight that same night?  However, due to the long chain of people involved, Ben was not able to get a hold of Charles directly … until I randomly posted on a different Facebook group he was a member of two days later.
Fast forward back to Monday, and Ben's response to my post on the Connecticut metal detecting group. Ben says to me, "I think I already found his ring". Huh? How is that possible? Ben arranges to meet Charles later that same day, and asks him to describe the ring. After he correctly described the ring, Ben opens his hand to reveal the lost ring. At that moment Charles burst into tears and gave him a hug. Take a second and count the number of people involved in this lost ring search. Don't believe it when people say there aren't good people in the world anymore – there are lots of them. How do I find my lost ring?  Post it on Facebook I guess!