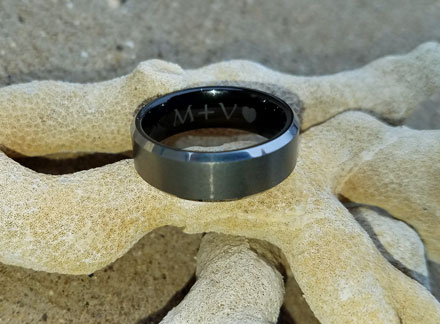 I've been running www.LostandFoundRing.com for close to 4 years and have helped return 68 rings to people. Each lost ring story is unique, and you can read more of them here. Since starting the business, I haven't been able to get out and "hobby hunt" as much as I'd like. There is only so much time in the day, and calls for a lost ring at the beach, park or wherever keep me and my metal detector busy throughout the year. So when we packed up for Punta Cana for Spring Break 2018, I decided to pack my metal detecting equipment.  What better place to spend a couple hours a day searching along the beach.  On my third day … I found something amazing.  I found a lost ring at the beach in Punta Cana while metal detecting.
Waterproof Metal Detector
This lost ring at the beach wasn't just out in the open. I had to work for it. It was low tide and I was in chest deep water in the ocean. The signal tone was strong, meaning the target below the coil was good and not just a piece of trash. I drove my sand scoop into the sandy ocean floor hoping to retrieve this "treasure".  The first couple attempts came up empty, but the metal detector was still beeping loudly. It was still there, just deeper. On the 5th or 6th scoop of sand, I finally saw the item staring back at me – a wedding band. I quickly looked on the inside for an inscription, and to my surprise I found one!

Lost Ring at the Beach – M + V
The initials "M + V", followed by a heart and then a wedding date. I felt optimistic that I might be able to find the owner? However, this ring was lost in Punta Cana, a global destination.  The couple could have been from anywhere, right? A closer look and I noticed that the date format was in "month – day – year" format.  This essentially narrowed down the search to the United States. Still a huge pool of people, but less daunting then the entire globe!
Can you Help Me Find the Owner?
I'd love nothing more than to return this ring to the rightful owner, and I believe with your help I can.  Check out my Facebook post at https://www.facebook.com/LostandFoundRing and Share it. Encourage your friends to do the same.  Message me on Facebook if you think you know the owners!  I've already contacted the hotel concierge desk, but do not have any leads. Here are the facts:
Lost Ring at the Beach Facts
Initials: M + V
Date: Marriage Year is 2016.  I'm going to hold back the month and day to be sure that the true owners are found and the ring is returned the rightful couple.
Date Found: 03/20/2018
Place Found: Ocean directly in front of the Now Onyx, Punta Cana Resort (click link for map)