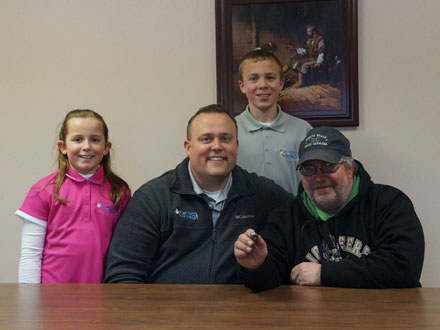 Most of the lost ring searches we go on are a result of someone calling us and asking  us to look for a ring they lost.  Rarely, do we get to return a lost ring that no one was looking for.  This was the case with Roger's Jefferson High School Class Ring from 1984.  It was December 2015, and we were contacted by Dawn, a woman who had lost a ring recently at her mother's funeral.  The lost ring was her grandmother's, and was worn by a family member who wanted grandma to be present at the funeral "in spirit". Unfortunately, when they returned from the cemetery for a lunch at the church, her family member realized the ring was no longer on her finger.  Dawn was quickly referred to us by not one person but two!  Both my wife and I were raised WELS Lutherans, and one thing you realize pretty quick is that no matter where you are, someone knows someone who knows someone who is a WELS Lutheran … and they probably know your parents.  The next weekend, we headed down to the church to look for the ring.  If you follow my lost ring stories, you might think that we are always successful … sadly, this is not the case.  Our success rate is just over 50%. This might sound like a low percentage, but it's actually pretty good seeing as we go on some pretty wild and crazy hunts. Unfortunately, this hunt was one of those where we were not successful – which is always heart breaking.  However, we did not leave that day empty handed.
"But Dad, It's a Really Good Signal"
It had only been a couple of days since the ring was lost at the church, so we knew it would be on the surface.  We arrived at the church and quickly started our search.  We focused on the parking lot and sidewalk areas.  After about 20 mins, my son comes up to me and says, "Dad I got a good signal over by the sidewalk."  Carter has been detecting almost as long as I have been, so he is pretty skilled.  I asked how deep it was … he sheepishly said "6 inches".  I responded that this was not what we were looking for and it couldn't be the lost ring as it was just lost a couple of days ago.  I explained that if we started digging holes the lady might wonder what we are doing, as her ring had to be on the surface.  "It just wouldn't look professional", I said in my dad voice.  "But Dad, it's a really good signal" he pleaded.  I gave in and said he could dig one hole.
"It's Probably Roger's"
Carter dug the hole and as we (of course I had to join in, couldn't just sit and watch the boy do all the work) were pulling the soil out of the hole, we saw it … the edge of a ring … and it was a big ring … a huuuge ring (in my best Donald Trump voice).  It reminded me back to when we found Arnie's 1958 lost class ring earlier in the year (Full Story: You Son of a Gun! and link to the YouTube video of the lost ring hunt).  You never forget that moment when you unearth something that has been lost for years – it's amazing.  Make sure you watch the video above, and you can see Arnie's reaction when we pulled his ring out of the ground 9 years later.
We quickly cleaned off the dirt and began to see the engravings on the ring.  I said slowly as I was trying to make out the words, "Jefferson …. High …. School".  Dawn said almost immediately, "It's probably Roger's".  What?  How could she know whose ring it was?  As we continued to clean the dirt off of the lost ring, I noticed an engraving on the inside of the ring … would you believe me if I told you it said "Roger".  I was shocked … then I was reminded of the WELS Lutheran connection.  You see Roger was a member of the church who also just happened to live on the same street as Dawn … can't make this stuff up if I tried. I had for a split second wondered how we would ever get the ring back to whomever had lost it … but I guess that wouldn't be a problem!
15 Mins of Fame
I had been working with the local NBC affiliate, WMTV NBC 15 for a couple of months to cover one of my lost ring stories.  Problem was I couldn't convince anyone to go on camera with me.  I figured it would never actually happen.  So after tracking down Roger's wife, Janna, I asked her if she was up for surprising Roger with the ring on TV.  After she got over the shock and disbelief that someone had found Roger's ring which was lost 14 years ago, she agreed!  We set a date and came up with a story to get Roger to meet us at the church where we found the ring.  We were waiting there with a NBC15 cameraman to record the moment when we returned the lost ring to Roger.  It was a blast and something I will never forget.  The feature will run on the 6:00 evening news on 2/23/2016.  I will link to the story once it is posted on the news website.
"Did you Happen to Find Both Rings"?
When I was explaining where and how we found Roger's ring, Janna asked, "Did you happen to find both rings"?  Wait a second … both rings?  Turns out Rogers daughter had both his and Janna's high school class rings on a necklace when she was in 7th grade and lost them both one day.  Problem was she didn't know where or how.  Humorously, it took her close to 2 years to come clean to her parents that she had lost them!  So, there was a good chance that wherever we found Roger's ring, Janna's ring would be close by.  Unfortunately, the ground is frozen in WI so this lost ring hunt will have to wait until Spring.  Finding Janna's ring would be a fitting end to this amazing lost class ring story.
Never Give Up Hope
If you are reading this and lost your ring today, last weekend or 14 years ago like Roger, please give us a call at (608) 492-1070. Write down as many facts about how and where you lost your ring.  These are so important and can be the deciding factor in whether your lost ring is found or will remain lost forever.  For those of you keeping track, this was lost ring #29 and lost class ring #2 … and it's a new record for oldest lost ring we've found at 14 years!  Please "Like" our Facebook page and you will get every Lost Ring Story delivered to you.  Remember, every ring has a story, what's yours?
NBC15 Making a Difference Award
We were the February 2016 recipients of the NBC 15 Making a Difference Award, and this ring was one of the features of the featured news story.  John Stofflet did an amazing job and we couldn't have asked for better publicity for the work we do to help people reunite with their lost rings. Click here for the full video.
More Lost Ring Stories
Interested in more Lost Ring Stories?  Check out our Lost and Found Ring Story Archive, Local Newspaper Articles featuring the Roekle Ring Finders or other General Interest Lost Ring Stories in the news from across the United States.