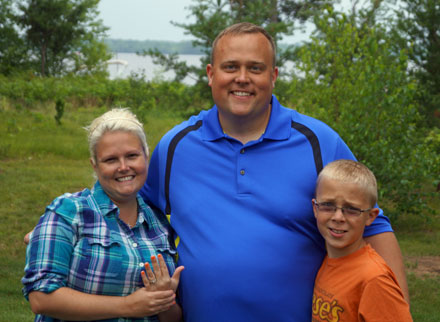 This lost ring story is one of my favorite of all time.  It was our first real adventure.  Previously, we had only searched land (parks, backyards, playgrounds, etc).  We had search in water before, but only close to shore.  This search was at Castle Rock Lake at Alcatraz Island.  We needed a boat to get there.  At the time, my son thought this was the coolest thing ever.  We were like James Bond going on a secret mission.  I have to admit, I thought it was pretty cool too.  Below is the story as told by Laura, the woman who lost her ring.
Newlyweds – Newly Lost Ring
I am a Newlywed of last August, so my husband and I have been married roughly 11 months. We have been together for over seven years and are best friends. We relocated to the New Lisbon, WI area three years ago and are lucky to live on beautiful Castle Rock Lake. Over The Fourth of July weekend, we had our family visiting from out of town and went over to a little island in the middle of the lake; better known as "Alcatraz". We were having a blast and hanging out in the water near the north side of the island. We were playing catch and I threw the ball to my sister. Little did I know that I had just flung my diamond ring into the water filled with tons of people and boats! A friend had said, " I think you just lost your ring" and we all wondered who he was speaking to; until I realized it was me. I went from laughing to frantic as we all searched around the area. Fortunately, he had seen me do it and we knew the area to look around, but to my despair we came up with nothing after an hour. I felt so horrible that I had lost my ring that my husband worked hard for and that we didn't have insurance. We talked about insuring it for a while and never seemed to get around to it. We ended up packing it up and heading to dinner. I felt like a part of me was missing! It wasn't the materialism of the ring, but the symbol and thought behind the ring. My husband, Rich, also lost his ring at work a couple weeks before. I just keep thinking, now neither one of us has the ring we were actually married with.  The next day I decided I was going to rent a metal detector and go back out there to see if I could retrieve it. As I searched the sites, I saw that it was roughly $40 a day to rent or around $600 for a decent one, but then it hit me…I had no idea what to do even if I did get one.
Rent a Metal Detector?
I then thought…well Google, you basically have everything I ever would need to know; so maybe you  can tell me if I can hire someone. Bingo. After I plugged in the question a website popped up. It gave me different people I could contact to help me find my ring and narrow it down by region of the world! Since I am basically an hour from any large city; I figured I would need to look for someone far from me. But, when I looked up areas in Wisconsin; there was a man in the Dells. I clicked on the link and came to Dan Roekle. He had other great success stories and also seemed like a very genuine guy. He also had found a ring in Baraboo with pretty much the same scenario. I was looking for pricing for him to come out; but he only wanted $25 for his expenses and reward if I could spare anything. I was ecstatic. I contacted Dan and within hours had responded and was asking lots of beneficial and professional questions. We went back and forth pretty much all day when he then said I can come out tomorrow if you are available. I couldn't believe this kind man was giving me his Sunday, willing to drive from the Madison area and seemed so confident we could find it. He basically stated, we do it for the adventure and love helping others out!
Your mission if you choose to accept it …
The next morning Dan drove up to our lake house with his son Carter, 11, who is his right hand man during these "treasure hunts". Not only were they very nice, I felt like I had known them for years. We all got on the boat and headed out to the island. My brother in-law met us out there and had the coordinates from his boat GPS that was so helpful to narrow down the area of where we were. It still was an area roughly 100 ft by 70 ft of water that was 3ft to 4 ft in depth. Carter would shift through the sand when Dan would let him now that the metal detector had detected something. They also switched and took turns listening and retrieving during the search which was awesome to see their teamwork. While they searched; Dan taught me about metal detecting as well. Things I would have never known! 1. You need a permit from the DNR in Wisconsin to search any bodies of water and need to let them know specifically what you are looking for. 2. The metal detector has different sensitivity levels that can search for things that are a few inches deep to 6 ft. depending on the setting. 3. Also that as soon as my ring had fallen off, it probably sunk 2 inches right away.
I am glad I didn't spend money on a metal detector!  It wasn't the sunniest day and the lake was kind of choppy. I felt so bad and asked if there was something I could do besides narrowing down the search area. Dan just replied no and kept looking. A little more time had passed and I was starting to think I wouldn't see it again. Then Dan came walking back to me on the boat. I just thought to myself that he was coming to say he was cold and it was a lost cause. He said, "are you sure this is the area"? I said, yes and then he asked what it looked like again. As I started describing the ring…he said you mean like this? I saw my ring was on the tip of his pinky (I have tiny hands) and hugged him and smiled the largest I had in a long while! My husband, family and I were in complete awe! I had not only my ring back, but my faith in people and lost causes. I knew right then and there, this would be a story I tell for the rest of my life.
Dan and Carter were a God send to me. I still shake my head in disbelief at the miracle that they performed that day. They found a ring the size of a nickel in 14,000 acres of water, buried along with 20+ rusty bottle caps and pop tops!  I am so glad that I found him and that people like him, even exist! So, if you have ever lost something that has been as important to you, put your faith in Dan to find it and you will be amazed as well.
Laura
Never Give Up Hope
Everytime we pull a ring out of a lake, I am amazed.  Something so small found in an area so large.  Having an idea where you lost it is obviously key, but so is persistence.  Never give up hope.  If you know someone who has lost their ring outside in the yard, in the water, in the snow or in a volleyball court … give us a call!  Doesn't matter if it was yesterday, the week before or 10 years ago – we can find it.  Please "Like" our Facebook page and you will get every Lost Ring Story delivered to you.  Remember, every ring has a story, what's yours?
Newspaper Article
This lost ring story was later published in the Juneau County Time Tribune – Delight From Despair – Finding Lost Rings.
NBC15 Making a Difference Award
We were the February 2016 recipients of the NBC 15 Making a Difference Award, and this ring was one of the features of the featured news story.  John Stofflet did an amazing job and we couldn't have asked for better publicity for the work we do to help people reunite with their lost rings. Click here for the full video.
More Lost Ring Stories
Interested in more Lost Ring Stories?  Check out our Lost and Found Ring Story Archive, Local Newspaper Articles featuring the Roekle Ring Finders or other General Interest Lost Ring Stories in the news from across the United States.