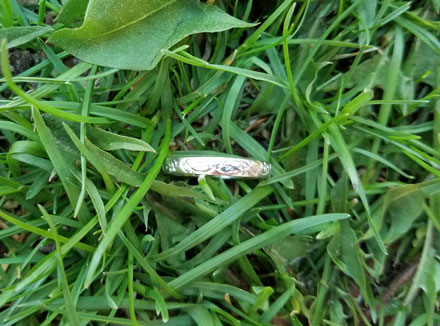 I got a call one night from a woman who told me she lost ring weeding my garden. This hunt occurred shortly after a similar hunt where a wedding ring was lost in the yard.  Similar to that hunt, Liz found out that the cost to rent a metal detector might be more than you think.  The reason is that people quickly become frustrated and most give up.  Lucky for Liz, she didn't give up for good.  It isn't uncommon for me to hear someone say they lost ring weeding my garden. Below, is the lost ring story as told by Liz.
Lost Ring Weeding My Garden
We use no chemicals on our yard, as it is a habitat for birds, bees, and butterflies. This means weeding, a LOT of weeding! While weeding out front,I ran into a few that were stubborn. So, I pulled off my garden gloves, in order to get a better grip. I weeded a bit more, came in, and put my gloves in the basket. Shortly after than I realized that my wedding ring was gone. My first thought was that it was in my glove. I checked the glove- not there. I checked the cabinet, not there.  
The next day I looked in the yard. Nothing. Next, I tore apart the front porch, nothing. My next step was to rent a metal detector. Between scraps of foil backed wrappers blown in by the wind, utilities, fence posts and random nails it was almost non-stop noise from the metal detector. My husband had asked Facebook friends if anyone had a metal detector we could borrow.  A few days later, a few people recommended Dan from www.LostandFoundRing.com, so we thought we would give him a try. He contacted Dan who contacted us shortly after getting the message. He came out the next day, and while I was at work, found the ring in the front yard . When I arrived home my husband was quite excited to tell me that it had been found. I highly recommend Dan to anyone needing this service.