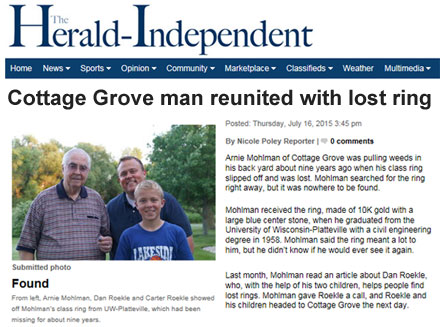 A lost class ring we found in 2015 was recently featured in an article by Nicole Poley.  Her The Herald Independent article details how Arnie lost his class ring in his backyard 9 years ago, how he found us and how reunited him with his class ring from 1958.  It's important to remember, it doesn't matter how long ago you lost your ring – it's probably still there!  Check out the link below to the original story which includes video of the lost ring hunt.  It's pretty cool to see the ring actually dug out of the ground and to see Arnie's reaction.
The Herald Independent Article Link
The Herald Independent – Cottage Grove Man Reunited with Lost Ring
Original Lost Ring Story with Video
Here's a link to the original Lost Ring Story along with video of the actual hunt and the moment we found the ring and return it to Arnie.  Lost 1958 Class Ring – "You Son of a Gun"
More Lost Ring Stories
Interested in more Lost Ring Stories?  Check out our Lost and Found Ring Story Archive, Local Newspaper Articles featuring the Roekle Ring Finders or other General Interest Lost Ring Stories in the news from across the United States.