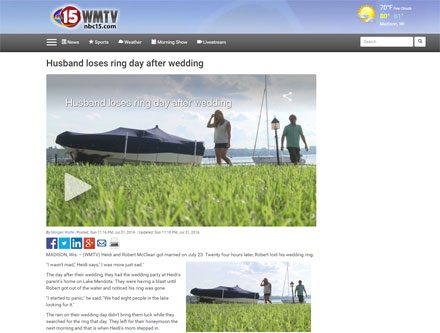 Husband Loses Ring Day After Wedding
After we finished the metal detector water search for Robert's ring, I just knew that this wasn't the end of the story.  I follow news stories about lost ring stories found with metal detectors all across the United States, so I knew this story could be interesting to a local news station.  We were recently on NBC15 for a Making a Difference Community Award in February, so I called them up to see if they would be interested in doing a story on Robert's lost ring.  To my surprise, I got a call back less than 24 hours later … and they wanted to do the story that night on our recent metal detector water search!  Morgan Wolfe was great, she shot the video as well as ran back to the studio to edit it up.  She took great attention to detail, making sure she had a number of "filler footage" for scene transitions.  We enjoyed strapping a GoPro to our metal detector and filming it entering and exiting the water – watch the video below and see if you can find this footage.  I'm always nervous going on TV, cause I don't want to look like the nerdy guy with a metal detector (which is hard not to do), but I think the piece turned out great.  So, if you are reading this and lost you ring in a local Madison lake – give us a call and maybe we can find it with our metal detector.  If you are outside of the Madison area, give us a call anyways and maybe we can arrange something.  We have gone on lost ring hunts throughout Wisconsin as well as surrounding states.
Original Story
NBC15 News Story by Morgan Wolfe: Husband Loses Ring Day After Wedding
Lost and Found Ring YouTube Video of the Ring Return: Newlywed Lost Ring Found with Metal Detector – Madison, WI
Lost and Found Ring Original Blog Post: Lost Ring in Lake Mendota – Found
More Lost Ring Stories
Interested in more Lost Ring Stories?  Check out our Lost and Found Ring Story Archive, Local Newspaper Articles featuring the Roekle Ring Finders or other General Interest Lost Ring Stories in the news from across the United States.