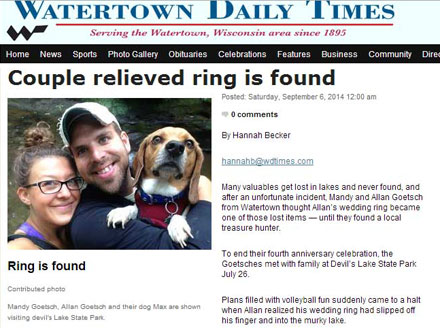 A lost ring we found in 2014 at Devil's Lake State Park was recently featured in an article by Hannah Becker.  The Watertown Daily Times article details how Alan lost his ring at Devil's Lake State Park, how he found us and how we saved their wedding anniversary.
Watertown Daily Times Article Link
Watertown Daily Times – Couple Relieved Ring is Found
More Lost Ring Stories
Interested in more Lost Ring Stories?  Check out our Lost and Found Ring Story Archive, Local Newspaper Articles featuring the Roekle Ring Finders or other General Interest Lost Ring Stories in the news from across the United States.