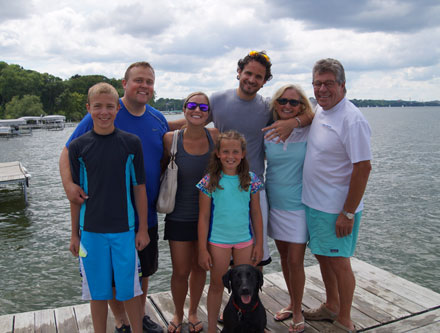 Why am I a ring finder?  Is it for the thrill of the hunt?  Is it to help people out in a moment of need?  Is it for the story either behind the ring, or how it was lost?  Yes, Yes and Yes.   It's for all three of those reasons, and the latest ring hunt had all 3 of those elements.  I've been a Ring Finder for close to 4 years, gone on over 100 lost item hunts and found and returned 43 wedding, engagement or class rings with a metal detector.  After awhile, you just get a feeling that a hunt is going to be good.  I had this feeling after talking with Liz on the phone.  What I didn't except was for it to end up on the evening news 24 hours later!
Lost Ring in Lake Mendota
Liz called and explained that  her daughter, Heidi, had just gotten married to Robert the past Saturday in Madison, WI.  The day after the wedding, a Sunday, family and friends were gathered at their lake house celebrating their new marriage. Robert and his groomsman decided to jump in the lake for a quick game of football before lunch.  One of Robert's friends commented that his wedding ring looked kinda of loose.  Robert agreed, but said that he just couldn't take it off – "It felt so good to wear it".   Well mins later, Robert looked down at his hand and it was bare – his wedding ring of less than 24 hours was missing.  Quickly the group of guys, along with others from the party joined in an attempt to find the lost ring.  While it is not impossible to find a lost ring in Lake Mendota, it is almost impossible.  I've been on hunts where people knew exactly where the ring was lost and spent hours searching and searching, only to come up empty handed (literally).
Rent Metal Detector Madison
So, while on their honeymoon, Liz jumped to action.  She searched online for a lost ring recovery service … not believing she'd actually find one, but it was worth a shot, right?  She was shocked when she found www.LostandFoundRing.com … and that it was even located in Madison, WI!  We made arrangements to perform the metal detector search in secret, in the event the ring could not be found Liz did not want to disappoint Heidi and Robert further.  We arrived at their lake house and after a quick explanation of where they thought the lost ring in Lake Mendota was, we jumped in.  After about 15 mins, we had a great signal on our metal detector and used our new Stealth Metal Detecting Sand Scoop, which has been a welcome addition to our tool set.  The construction of the scoop is like none other I've used.  It also has reduced our retrieval time, as the target object is typically in the scoop on the first attempt.  Using our old scoop, it might take 2 to 4 attempts to retrieve the target item. After the first scoop – bam I could see the ring in the bottom of the scoop.
Lost Wedding Band Found
Liz quickly called Robert and Heidi, the newlyweds to come over to their lake house for something "very important".  The YouTube video below captures the moment we returned the ring to them – which was absolutely priceless.   Check out the photo – Robert's mouth hung open for awhile as he stared in amazement at his ring on my pinkie finger.  The story was so good, the local NBC news station did a story on how the ring was lost and found.  The link to this story is also below.  It also was picked up by other NBC affiliate stations in New York, Ohio and Oregon.  Pretty cool.
NBC15 News Story by Morgan Wolfe: Husband Loses Ring Day After Wedding
Lost and Found Ring YouTube Video of the Ring Return: Newlywed Lost Ring Found with Metal Detector – Madison, WI
More Lost Ring Stories
Interested in more Lost Ring Stories?  Check out our Lost and Found Ring Story Archive, Local Newspaper Articles featuring the Roekle Ring Finders or other General Interest Lost Ring Stories in the news from across the United States.