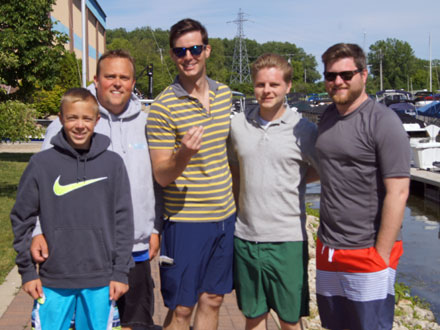 When Amy went looking where to rent a waterproof metal detector in Madison, WI she never thought she'd find a Professional Ring Finder.  Amy had lost her ring while on vacation visiting family in Madison, WI.  They rented a boat and went out on Lake Mendota throwing anchor at Governor's Island 3 Foot Bay.  While out in the water, Amy lost her ring and like so many other people was unable to find it once it hit the fine sand.  Fast forward 6 months, and I get a call from Amy asking if I might be able to help her find the lost ring.  Now, there was still ice on the lake – so I couldn't go out right away.  However, once the ice broke, I threw on my waders and went out in the water.  It was cold … very cold … crazy cold.  I was joined by one of Amy's brothers who lives in the Madison area.  He shouted directions to me from shore.  It was hard, because he couldn't see around a small peninsula shooting out from shore.  After an hour, I threw in the towel.  I went out one more time on my own but came up empty.  It's hard searching with a metal detector in the water without knowing if you are even in the right spot.
Where to Rent a Waterproof Metal Detector?
Turned out Amy was planning on returning to Madison in July for a wedding.  She offered to rent a boat and return to the lake with her husband and brothers to try to get me on the spot again.  I was game, 3 times a charm, right?  I spent some time digging through cell phones pictures taken the day the ring was lost.  This has helped me in the past – you wouldn't believe how well trees can tell the story of where you were standing in the water.  Branches, space in-between trees, green space, debris in the water … all of these helped guide us to the right spot.  We grabbed our metal detectors and meet Amy's husband and brothers at the lake.  I will let Amy tell the rest of the story below:
Lost Ring Lake Mendota
It was a gorgeous summer day out on Lake Mendota with friends and family when… plunk!  There went my wedding ring into the waist deep water, nestling down into the fine sand where we had no chance of finding it on our own.
It was a simple and innocent mistake.  The ring slipped off while throwing around a football.  As a mom of a toddler, I was too busy worrying about snacks, swim diapers, sunscreen, sippy cups… etc., to even think about taking off my ring before getting into the water.   Even though searching was essentially a lost cause, there we all were hunched over in the water sifting and raking the sand with our fingers for the lost ring.
Not to waste the rest of the day and a rare opportunity to spend with people we care about, we stopped looking.  I've failed to mention up to this point that we live in Kansas, nearly 700 miles from the lake.  We had no idea at the time if, when, or how we'd ever get the ring back.
Let's Rent a Metal Detector
I searched and searched online for a replacement ring that would even resemble the original.  5000+ pictures later and a call to our custom wedding band designer in Stillwater, Minnesota confirmed the unfortunate reality.  My engagement band was no longer available and our jeweler had gone out of business.  I purchased a cheap $5 replacement ring and reluctantly moved on.  We were pregnant with our second baby and had more important things to occupy our time.
Almost a year passed and it was time to start planning our next family gathering.  How about Madison again?  My husband suggested something like, "Hey, let's just rent some metal detectors and a boat, and go back."  That would've been a fool's errand though, since we had no idea how to work the equipment.
Over a group text message, my brother came across Dan's information online and responded "Why don't you just try him?"  My husband was incredibly skeptical.  He didn't want to give anyone a treasure map to the ring, especially someone with specialized gear and the skills to find it, AND someone who knows we live three states away.  Although his points were valid, I had a good feeling about Dan (maybe it was his Midwest vibe?) and gave him all the information he needed.  I read all of the success stories and articles online, and chose to trust him.
They Found It!
Behind the scenes Dan had gone out after work hours twice in freezing water via a sandbank at the bay.  He was confident the ring was still there but wasn't convinced he was searching the right area.  When our next trip to Wisconsin came up, we had a four hour window to find the ring until we had to return the rental boat.  We had limited vacation time, other family commitments, so this was our shot.  I stayed behind to watch our two daughters while my husband and brothers brought Dan to the area and gave their best guess on location based on pictures and memory.
Three hours later my husband called.  "Did you bring your ring cleaner?"  Unbelievable.  They found it!
My husband was extremely reserved about the process but later confessed he felt much better after meeting Dan in person.  Bringing his son along on the hunt made him even more authentic.  Even though he wasn't able to locate the ring the first two times, he explained the added effort removed bottle tops, garbage, and other items that would have slowed the process.  He didn't have to do that.  But if you ever get the chance to meet him, you'll understand.  He's not in it for the money.  He's in it for the thrill of the hunt and your reaction when he surprises you with your treasure you thought was lost forever.
Amy
YouTube Video
Below is a link to a YouTube video of the ring hunt, including the moment we returned the ring.  I love the reactions when we return what people thought was lost forever.
More Lost Ring Stories
Remember, don't waste your time looking for where to rent a waterproof metal detector – just call us!  Interested in more Lost Ring Stories?  Check out our Lost and Found Ring Story Archive, Local Newspaper Articles featuring the Roekle Ring Finders or other General Interest Lost Ring Stories in the news from across the United States.