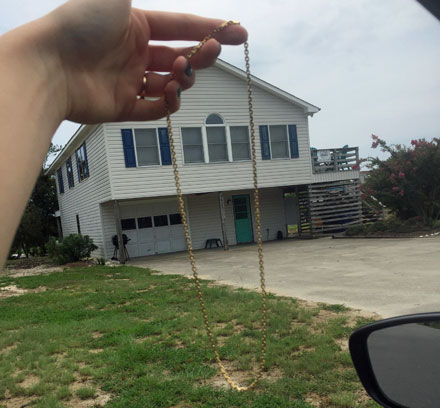 Sometimes I get calls from out of the area for a Lost Ring, lost gold necklace or where to Rent a Metal Detector. I try and do everything I can to connect them with a local Ring Finder.  If no one is available, I try to talk them through how to find it themselves.  Now, I know that if you read my blog posts, I usually discourage people from looking to rent a metal detector. However, as a last resort, this is sometimes the only option.
I got a call from Abby one day about a lost gold necklace.  After she told me how it was lost, I knew it'd make for a perfect DIY metal detector search.  You see, they watched it fall into the water so they knew exactly where tp look. Below is the story of the lost gold necklace told by Abby.
Beach Week – Lost Gold Necklace
At the end of the June, my friends and I headed to "beach week" in Nags Head, NC to celebrate graduating high school. One night, my friend Andrew took off his shirt and gold necklace and jumped into the canal.  The gold necklace he wore was a graduation / birthday present that his parents gave him, costing $1,300. When he took off the chain, it fell through the boards of the dock into the water underneath. We both immediately jumped in searching for it but had no luck.
I ended up getting a charge later that week and had to drive 5 hours back to Nags Head for a court date. Andrew and I planned to try and find it again and worked on looking where to rent a waterproof metal detector. I just so happened to stumble across Dan's number on Google.  He was so helpful in suggesting we buy a small metal detector.  He even walked me through how to use it over the phone.
After my court session, I headed over to the house and jumped into the most disgusting water. Crabs were everywhere and the mud was thick. A half hour in I started to lose hope after finding my tenth nail. As I was getting close to giving up, I got a faint buzz from the metal detector and dug my hand into the mud. Sure enough, I found the chain balled up in a knot. I think it's safe to say my screams probably woke up some neighbors.  Thank you to Dan! You saved my friend $1,300 and helped us make a hell of a memory.