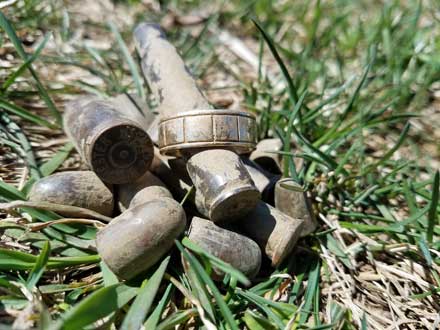 The 2018 lost ring hunting season is starting to ramp up as the weather is finally getting nice.  My first real lost ring hunt of the season was a couple of weeks ago. I dusted off the metal detector and put in fresh batteries. A couple contacted me last year regarding a lost ring in a field. Unfortunately, the ground had already frozen and it would need to wait until spring. Given the amount of area you need to search, a lost ring in a field isn't the easiest hunt. However, if there isn't a lot of junk, it can be ok. Well, that wasn't the case with this lost ring in a field.  Target practice was a routine activity in this field. I dug close to a 100 bullets and casings before striking gold.  Please enjoy the story of the lost ring hunt as told by the couple.
Lost Ring in a Field
On a Saturday afternoon, back in August 2017 my husband worked for hours on prepping his tractor and big mower for a day of mowing our prairies. Later that night, he noticed that his wedding ring was gone! Now this was no "normal" wedding ring. The ring was melted down gold from his original wedding band (we got new wedding bands for our 25th wedding anniversary), gold from a piece of his mother's jewelry and gold from his dad's wedding band. So needless to say – it was a very "special" ring to my husband! Understandably he was VERY upset when he noticed that he had lost his ring in a field while mowing. We did look for it, but the area where it could possibly be was too large. We gave up.
Lost Ring Finder Guy
Months later while talking about his lost ring in a field with our family, our daughter-in-law said, "Why don't you call that Ring Finder Guy?" We just laughed like yeah there's a Ring Finder Guy. She responded, "No, I'm serious – I read about him in the paper and I think he lives in the area. He uses a metal detector to find lost rings." So … I went home and Googled "ringer finder" and voila there he was.  Dan Roekle, Ring Finder and Metal Detector Specialist.
I contacted him thru his website, and he answered me almost  immediately. He said he would be happy to help, but would need to wait until the snow melted.  Sure enough, the beginning of March he emailed to touch base and let us know that he was still interested in trying to locate the lost ring in a field.
Irreplaceable Lost Ring
On Thursday April 26th, Dan drove out to our property and met my husband in the area where he had worked months earlier. Dan stayed for several hours that day but could not find the lost ring. He said he would be back again to continue looking. On Sunday April 29th, Dan and his son came back out to continue "the hunt" for the lost ring in a field.
After several hours of searching with his metal detector, he came to the house to give me an update on his progress. He showed me a couple of plastic bags with metal objects in them he had found … but no ring. We started talking again how special that ring was to my husband.  He responded, "so I guess you could say it was irreplaceable and invaluable?"  I shook my head, "Yes". Then Dan set his metal detector down, took his hand out his pocket and said, "Well then, I guess it is a good thing I found it!" And there it was – THE ring!! I couldn't believe it!
Speechless
Unfortunately, my husband was out of town and Dan was not able to tell him face to face. Later that night, I FaceTimed my husband and held the ring up to the phone. He was speechless! Another cool thing, the day Dan found the ring, April 29th – is my husband's dads' birthday! THANK YOU DAN