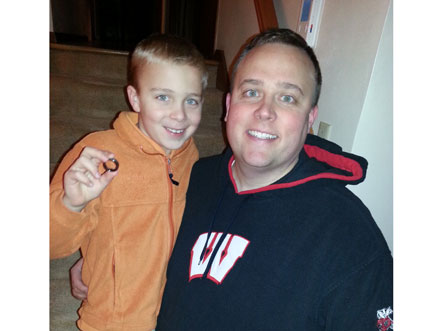 I usually can't wait for my phone to ring and it be a lost ring hunt or another lost item someone needs help with.  However, this day was a little different.  It was just another winter day in WI, except it was -10 degrees below zero outside!  We got a call from Brandon who lost his ring in a parking lot snowbank at Erin's Snug Irish Pub and Restaurant in Madison, WI.  He explained that he was preparing to leave the restaurant and was cleaning off the snow from his car.  He cleaned off his windshield wipers with his fingers, and then flicked the snow off to the side … except it wasn't just snow that flew through the air … his wedding ring also went for a ride.  He saw it fly off and knew right where it went, so he immediately began to search through the snowbank.  After searching for what seemed like hours to Brandon, he gave up.
Golden Snow Bank
Gold is a very dense and therefore heavy metal.  I've had the opportunity to hold a real gold bar once in my life, and you'd be amazed how heavy it really is.  When Brandon dropped his lost ring in the snow bank, it had a lot of velocity and coupled with the weight of the ring – resulted in it sinking out of sight to the bottom of the 4 foot snowbank. Even though Brandon saw the entry point, he could not find the lost ring.  He searched on Google and typed in "where to rent a metal detector".  It was late and there were no places open that rented metal detectors.  He kept searching and found our Lost Ring Metal Detecting service.  When we talked on the phone, he said he was shocked to find such a service.  He was sure he'd have to wait until the next day, but we were just crazy enough to jump in the car and drive across town … even through it was -10 degrees below zero!  This was our 2nd Lost Ring Hunt ever … so we couldn't say no.
I Can't Feel My Fingers
After being outside for just mins, I could see how Brandon lost his ring.  The extreme cold weather can make your fingers constrict and your wedding ring loose.  This is the same effect that cold water in a lake or river has, which is why lakes and rivers are one of the most common places to lose your ring.   My son joined me on the hunt, and after bundling up – we started our search for the lost ring with our metal detectors.  We hunted in 5 min increments, to make sure that we stayed safe.  It was probably the coldest I've ever been. I am a pretty tough guy when it comes to cold weather, but with temps -10 below zero, you don't want to mess around.  While searching, we kept the van running in order to have a warm place to retreat to.  The good thing was our search area was pretty small.  We searched the area with our metal detector, but got no good signals. We did get a bunch of 'junk' signals, which isn't uncommon in a parking lot.
Never Give Up … Even if It's Cold
We brought along a small shovel and began cutting down the snow bank, which was close to 4 feet tall.  We first cleared a spot in the grass that we know was "clean" (i.e. no signals).  Then we took 5-6 shovels of snow from the snowbank and drop it in this spot.  After checking this with the metal detector, we'd repeat.  When we go out on hunts, I'm usually pretty stubborn and don't give up or quit easily.  However, this was just brutal and having my son along, I had to make sure that we were being safe and not endangering ourselves in the frigid weather.   After about 30 mins of cutting down the snow bank, we agreed to do one more 5 min rotation and then call it quits.  Would you believe that it was on this last attempt, we got that sweat sound of gold from our metal detector.  We then took more care in removing the snow, small piles at a time, until the signal disappeared … we knew it was now in the last shovel full of snow.  A couple mins of fine searching with a smaller metal detector called a pinpointer, we found it.  After picking the lost ring up, Carter and I ran fast back to the van with huge smiles on our faces.  Our first stop was McDonald's for some hot chocolate to warm up.  We then called Brandon and gave him the good news.  He gave us a very generous reward for our hard work and an extra bonus seeing it was so cold.  He could not have been more appreciative for our hard work and for finding his lost wedding ring.
Never Give Up Hope
This was Lost Ring #2! If you are reading this and lost your ring today, last weekend or 10+ years ago, please give us a call at (608) 492-1070. Write down as many facts about how and where you lost your ring.  These are so important and can be the deciding factor in whether your lost ring is found or will remain lost forever.  We never gave up hope and amazingly we were able to return Brandon's lost ring back to his finger.  Please "Like" our Facebook page and you will get every Lost Ring Story delivered to you.  Also, please share this story on your Facebook page, so together we can reach more people to help find their lost rings.  Remember, every ring has a story, what's yours?
More Lost Ring Stories
Interested in more Lost Ring Stories?  Check out our Lost and Found Ring Story Archive, Local Newspaper Articles featuring the Roekle Ring Finders or other General Interest Lost Ring Stories in the news from across the United States.