Lost Ring in Castle Rock Lake, WI
We recently received a call for a lost ring at a familiar place, Castle Rock Lake, WI just north of Wisconsin Dells.  This was our second time looking for a lost ring in Castle Rock Lake.  Last summer, we successfully found a lost wedding ring in almost the same location, which is a popular sand bar frequented by boaters.  If you are interested, here the link to the story.   As you'll read below, we can now add another successful hunt for a lost ring in Castle Rock Lake – we are now 2 for 2.   Pretty awesome story, and I love it when people send me a story from their point of view.
You can Metal Detect in the Water?
If you are reading this and you have lost your ring, give us a call and maybe we can help you too.  You might be surprised, but we can metal detect in the lake.  All of our equipment is water proof.  Don't waste your time renting a metal detector, because it will likely not be water proof and you might not know how to operate it.  I was again reminded how much lost rings mean to people.  It is not just the value of the ring, but the memories attached to the lost ring.  Emily had an insurance check in hand to replace the ring, but she wanted her ring back.
Reaction Captured on Video
After reading the story, make sure you watch the GoPro video at the end.  Emily was not along on the hunt, so after we found her lost ring we called her.  The video is of the actual call.  If you wonder why we would drive over an hour and spend the majority of a day looking for a ring in a 16,000 acre lake … her reaction is your answer.  You have to watch it.
Lost Ring Testimonial
The following story was written by Emily, the woman who lost her ring.
Think there are no longer Good Samaritans out there? Read on…
Every year, we spend a weekend in Castle Rock Lake in Arkdale, WI for the annual Boat Bash at Alcatraz Island. Believe me, it's a lot more fun than that other Alcatraz.
This year, while playing water volleyball, I lost my wedding ring in waist-deep water. We searched the area for several hours with no luck.
I was devastated. While the ring was insured, no amount of money could cover its sentimental value. When my husband and I returned home, I Googled "lost rings on Castle Rock Lake" and lo and behold … an angel materialized in the form of Dan Roekle, a Middleton, WI man who searches for lost property out of the goodness of his heart.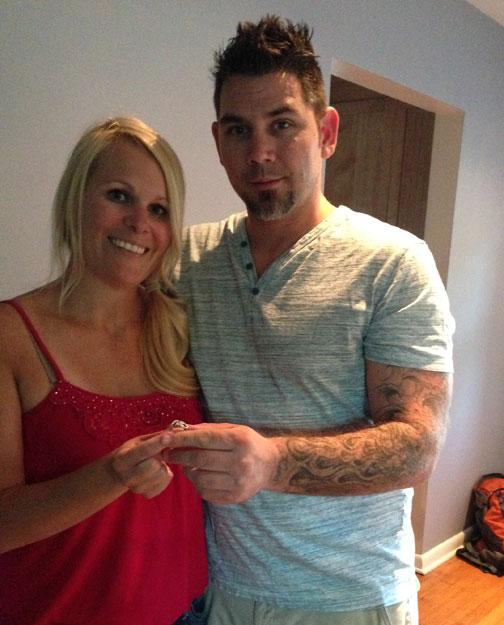 Accompanied by his pre-teen son and daughter, he works on a reward basis (plus $25 – $50 to cover fuel and expenses, depending on how much travel is involved). Dan agreed to help, but needed someone to get him out on the water. My sister-in-law and her fiancé agreed to tow their boat back up to the lake and take Dan and his kids out to look for my ring. They drove the boat out to Alcatraz Island and anchored the boat in the area they thought we were at the previous weekend and began the search.
Two hours later, about 50 yards from their original anchored spot and after matching up the landscape tree for tree and branch for branch from one of the pictures they had from the tie-up they were confidant that they were in the general area that we were anchored at the weekend before. The Roekle's started searching the new spot, and within just 15 minutes, Dan hit pay dirt! It was nothing short of miraculous.
Turns out, it was the 20th ring they've found. And the gratitude they receive from their "clients" – rather than financial incentives – is what spurs them on. You can learn more about Dan and his kids' adventures, equipment and motivation on his web site, www.LostandFoundRing.com.
Once you learn about them, I think you'll agree with my entire family that the only thing more amazing than the Roekles finding all those precious keepsakes is finding someone as rare as the Roekles themselves.
Emily K.
Please "Like" our Facebook page and you will get every Lost Ring Story delivered to you.  Remember, every ring has a story, what's yours?
YouTube Video – GoPro of Lost Ring Hunt
More Lost Ring Stories
Interested in more Lost Ring Stories?  Check out our Lost and Found Ring Story Archive, Local Newspaper Articles featuring the Roekle Ring Finders or other General Interest Lost Ring Stories in the news from across the United States.