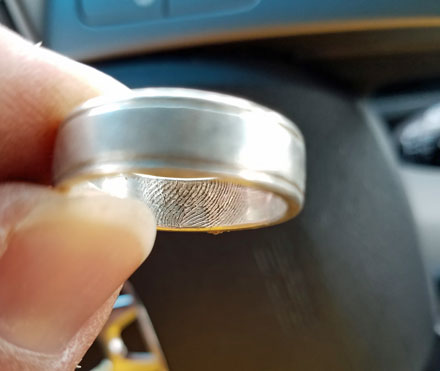 People often ask me why I do what I do. Why do I spend my free time to help others find a lost ring instead of just recommending a metal detector rental?  Why do I go through the hassle of running a metal detector rental business just to find jewelry that I don't get to keep?  Yet, I ask myself those same questions sometimes. Recently, I went on a hunt that quickly answered that question. Why am I a lost ring finder? Please keep reading, and you will have your answer.
Metal Detector Rental Newspaper Article
The Wisconsin State Journal recently did an article on my lost ring and metal detector rental business. I have been very fortunate to have been the subject of many newspaper articles recently. You might think I do it for the attention, or to stretch out my 5 mins of fame.  Nope.  I do it in order to to catch people before they start looking for where to rent a metal detector. You'd be surprised how many calls I get after a newspaper article runs. Surprisingly, most are wild goose chases. But there is always one or two promising searches.
Jessica was one of those people who called after the article ran. I immediately knew her call was different.  Moreover, you could hear it in her voice. First, Jessica explained how her grandmother read the article, cut it out and mailed it to her. Everyone has a grandmother that does this, right? Do you always read the articles? Be honest. Except, this article was different. Jessica explained that she had recently lost her husband, Lee, in a car accident. Lee's wedding ring was never found due to the severity of the accident. She told me that it was the only thing she really wanted from his personal belongings. Therefore, I knew I had to do this lost ring search.
Custom Made Fingerprint Ring
The ring was a custom made silver ring, which included Jessica's fingerprint etched on the inside of the band. Funny, Lee often joked that even if he didn't wear his ring, her fingerprint would still be indented on his skin from the ring. Later, friends and family returned to the crash site to search for the ring. Unfortunately, they did not find it.  Consequently, Jessica ordered a replacement ring, but it turned out different and was just not the same as the original. Jessica had run out of options.  Or had she?
Lost Ring Road Side Search
Last year, I had done another road side lost ring hunt with a metal detector.  After my 4th bag of trash, I stopped picking up trash. While I cautioned Jessica that the chances of finding the ring was low, I told her I was all in. Unsure on the difficultly, I reached out to a metal detecting group on Facebook to solicit help. If the search area was big and trashy, the more people to help search the better. Amazingly, over 30 people volunteered to help search with metal detectors. They were from multiple states – WI, IL, MN and IA.  While I appreciated the help, a hunt along the side of the road with 30 people would be a lot to plan and organize. I thought it'd be best to take an initial look myself along with my son and one other volunteer.
No Metal Detector Rental Needed
First of all, I requested a copy of the accident report. Finally, I talked with a near by neighbor to get information on the crash site. After about an hour of searching, I got that unmistakable signal in my ear.  To my amazement, when I reached down and parted the grass (see if you can see it in the picture above) there was Lee's ring. Wow. I couldn't believe it. Quickly, I gave Jessica a call and texted her a picture of the ring. Later that day, I was able to give it back to her.  Words cannot describe that moment.  Jessica didn't need to say anything, her hug said it all.
So, why am I am a ring finder?  Why do I discourage people from trying to find a metal detector rental company? This hunt is why, and I will never forget it. I am honored to have been able to find and return Lee's ring to Jessica. Check out the link below for the NBC 15 news story on this lost ring hunt. It is a very touching tribute to Lee and his life as a husband and father of three kids.
In conclusion, remember to always love those God has put in your life. Never take them for granted, and please remember to tell them you love them.  Lee was a Batman fan, as are myself and my son. In order to channel our inner Batman, we wore our Batman sweatshirts the day of the hunt. I believe Lee was with us that day, guiding our metal detectors to find his lost ring. Batman movies are famous for quotes. This one perfectly summarizes this hunt.  "I have one power … I never give up" – Batman
NBC 15 News Story
Here is the news story that was run on 11/14/2017, titled "The Widow's Ring" by John Stofflet. Also, here is a link to a Go Fund Me page for Jessica and her children setup by her friends and family. The goal is to raise some money for the kids college education.  Please consider donating to this worthy cause, even if it is just a small amount.  http://www.gofundme.com/steinhorstmemorial