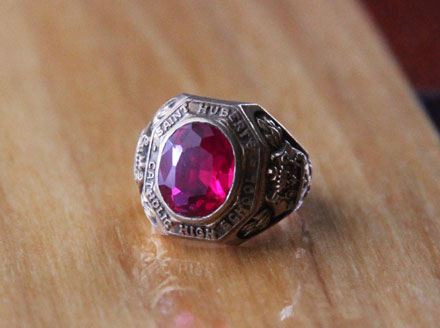 Ever read one of those stories about a class ring that was lost 50 years ago that was reunited with someone because of a Facebook post?  Well, how about being part of one of those stories!  A friend of mine found a 1949 … yes a 68 year old ring … class ring!  The way she found it is even cooler.  She was at a local swimming hole in Hopewell, NJ and looked down and found the ring.  It literally had a tree root growing through it – so it has been lost for a very long time.  Now, she is trying to find the rightful owner.  She is already working with someone from the school, but so far haven't been able to find the owner.  The ring does have initials engraved on the inside, but she is holding this information in order to ensure it gets back to the rightful owner.
How Can I Help?
She is looking for a yearbook or class list from St. Hubert's Catholic High School from either 1949, 1948, 1947 or 1946. Would you please share this post, especially in the states surrounding Philly? Feel free to PM me if you have a lead, and I will put you in touch with the woman who found the ring. Thank you for sharing this post and stay tuned to find out if the owner is found!
Update – Ring Found!
Update – after a Facebook post about the ring went viral (approx 10k shares), the daughter of the woman who lost the ring came forward with the correct initials inside of the ring.  Check out the story below for the reunion!
St. Hubert Lost Class Ring Returned To Owner's Daughter